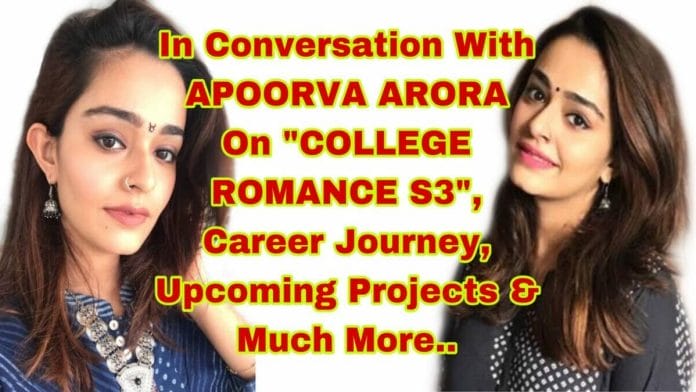 South film actress Apoorva Arora is happy to be back in the third season of her known Sony Liv series, College Romance.
" All five characters have grown up compared to earlier seasons 1 and 2. "
"Agony aunt, Nyara holds everyone together, not letting things collapse. I observed several people having similar feelings before beading together my character. I have also added my elements to her. The best part of our series is that we all respect each other, not bothering about where each comes from," she added.
Apoorva, who did college through correspondence as she started working early, says, "College Romance helped her live a campus life that she could not enjoy."
Talking about her co-star Gagan Arora, who plays her love interest, Bagga, she says, "We have become like family. Besides the above web series, we have also worked together on other shows. The superb off-screen equation rubs off on screen as well. What I best like about Gagan is that he is a gentleman giving me the required space."
Besides the web, she is happy to return to her first love cinema, which had been held up due to the lockdown "My few films shall soon hit the theatres, great to live that life."
Among the web series, Apoorva has done Udan Patola(Amazon Prime), Wrong Number(YouTube) and Firsts ( Amazon Mini).
Apoorva has few reservations regarding going bold, "But it also depends on the script and the filmmaker. They should respect that I am dropping my inhibitions for them."
Listen to the full interview