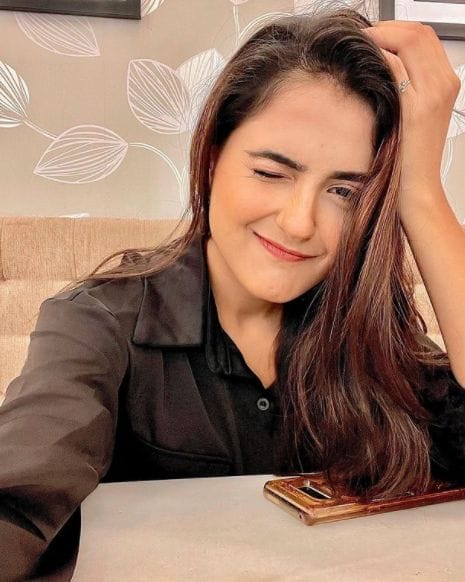 Actress Debattama Saha holds a singing talent. Many times she has flaunted her singing skill. Tumhi dekho na, Jo Tera Howega are some of the best songs ft Debattama.
https://www.instagram.com/reel/CST46hgDFSd/
Along with being a good actress, she is famously known for having good voice. She shared a video alongside her co-star Ashish Bhardwaj. She sung 'Duaa' song. Deba's soulful voice touched million fans out there. Ashish played the chords for his co-star.
Debattama keeps sharing her singing video on her social media. 'Can't help falling in love with you' is one of the best cover by Saha.
https://www.instagram.com/reel/CO41aQKjCY0/
And who can forget 'Le Jaye Mirza Koi' song ft Debattama. She just nailed the few lines from the song.
https://www.instagram.com/reel/CNzKGyIDQhH/
Most recently, Debattama flaunted her singing skill on the stage of Zee Rishtey Awards. Actress sung 'Ambarsaryia' song and impressed the audience. Her voice is music to ear undeniably. Bollywood Singer Anu Mallik praised Debattama too. The unstoppable diva received praise from her fans.
Praising her versatility one of Debattama fan wrote "Totally talented, totally versatile, totally beautiful and absolutely adorable #debattamasaha DEBA IS ABSOLUTELY TOO GOOD A TALENT & WE HOPE TO SEE HER IN BIGGER ROLES, AND DEFINITELY EVEN ON THE BIG SCREEN"
"This girl is powerhouse of talent. From acting to singing, she has got all!"- said second
Co-star Ashish Bhardwaj yet again supported Debattama. He played for her. Fans are fan of Ashish and Debattama's jamming.
Debattama was last seen in Zee TV 'Mithai'. She played the title role. Show recently bid adieu to its audience.
Actress is an influencer too. In a long instagram post, Debattama asked her fans and followers to keep moving. "Sometimes all we do is hide. We try to hide ourselves from the world, we try to hide ourselves from the reality, and sometimes we try to hide ourselves from US! Sometimes, what's real can be harsh than reel! Never go with only what you can see, rather it's better if you don't try to see anything at all! Life itself can be pretentious! All we have to do is keep moving and go on! We put on different masks. What's ours today, might not be supporting us tomorrow. So it's better to not have any expectations. Cz when you don't fulfil your expectations, you end up being dissatisfied. It is okay to dream! It is tough. But there is nothing wrong hoping! Hoping that things will meet beautiful ends or probably have another new beginning someday! Dream on dear dreamers. Hope until the day you die. Hide sometimes if necessary, but make sure you come out of your shell someday with a broad smile on your face! Live on! ♥️🙏🏻
#life #beingmyself #debattama_sah #debattamasaha #debattama #anokhi"
Debattama rose to fame playing the character of Ankohi in star plus show 'Shaurya Aur Ankohi Ki Kahani'.