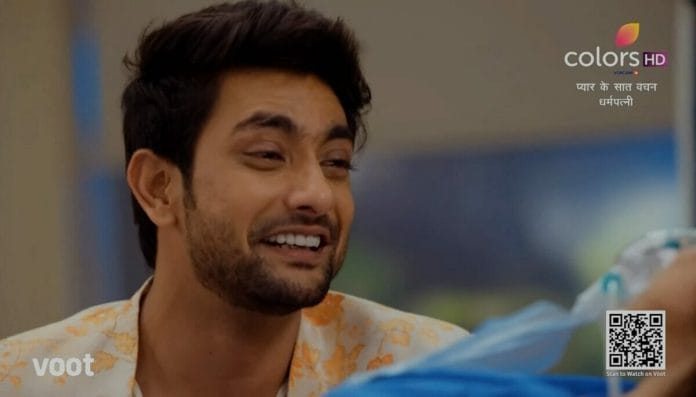 Dharam Patni Spoilers, Upcoming Story, Latest Gossip , Future Story, Latest News and Upcoming Twist on tellyexpress.com

Colors TV's recently launched show Dharam Patni is a rare love story of a simple sweet school teacher Pratiksha Parekh and a buisness tycoon Ravi Randhawa. Currently we are seeing that Keerti breathes her last. Ravi gets devastated. Kavya regrets for cursing Ravi earlier. Her mother asks her to go and check Ravi. Ravi holds Keerti's dupatta and sheds tears.
In the previous episode, Keerti's condition deteriorates. Doctor decides to operate on her. Kinjal informs everyone that Pratiksha donated blood to someone. Hansa criticizes her for not taking money in exchange. Pratiksha says that she tried to help the needy not do any buisness. Pratik goes to return the rented car to its owner.
Pratiksha sees that Pratik has left with wrong key and goes outside to give him the right one. Ravi stands beside the car and talks to Aditya over phone. He gets irked knowing that Aditya and Keerti's father launched a police complain instead of checking the CCTV footage personally. He hits his hand on the car.
Pratik notices it and sends Pratiksha to check. Pratiksha comes to check but Ravi leaves by that time. Ravi goes upstairs. Nurse informs him that Keerti's condition is critical. Ravi sees that Keerti has opened her eyes and goes inside. He asks her to fight for her life. Kavya also goes inside. Ravi tells Keerti that he won't let any 3rd person to come in between them.
Keerti drops his hand and closes her eyes. Doctor declares her dead. Ravi refuses to believe. His mother brings him back to his senses. Ravi gets devastated. On the day of funeral Kavya feels guilty. Ravi recalls Keerti holding her dupatta.
In the upcoming episode, touching the ashes of Keerti, Ravi makes a promise to her that he will not spare her murderer, he will punish him or her. Ravi's father asks him in a phone call if he got to know the murderer's name. Ravi and Aditya go to Pratiksha's locality and searches for her. A lady gives them the adress of Pratiksha.
To know what happens next stay tuned to Dharam Patni on Colors TV/Voot app and this space.