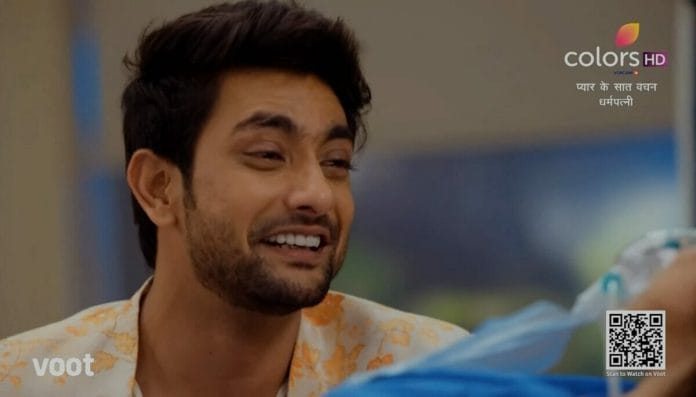 Dharam Patni Spoilers, Upcoming Story, Latest Gossip , Future Story, Latest News and Upcoming Twist on tellyexpress.com
Colors TV's recently launched show Dharam Patni is a rare love story of a simple sweet school teacher Pratiksha Parekh and a buisness tycoon Ravi Randhawa. Currently we are seeing that the court case begins. Gulshan interrogates Pratiksha. Malhar gives false testimony. Ravi gives threats to Pratiksha.
In the previous episode, Pratik feeds curd sugar to Pratiksha and asks her to not take stress. He says that Malhar is an inspector now, he will not let anything happen to Pratiksha. Pratiksha is taken to the court. Ravi says that he will give the same pain to Pratiksha which she gave to Keerti. Malhar decides to do what is necessary. Gulshan interrogates Pratiksha.
Pratiksha calls herself innocent. Gulshan doesn't believe her and calls her a cold blooded murderer. Malhar is called to give testimony. Malhar says that he has checked CCTV footage in which Pratiksha is seen driving the car. He adds that he was sleeping in the back seat. Pratiksha wonders why Malhar is lying. Judge says that she will give her verdict on Monday.
Dolly toungelashes Pratiksha. Pratik tells Pratiksha that he will do something. Gulshan feels confident about winning the court case. Ravi gives threats to Pratiksha. Later he tells Kavya that things will never become like before.
In the upcoming episode, Pratiksha becomes a prisoner. She feels that there is no longer any hope and this is her fate. Malhar is told by Pratik, "I will identify the genuine offender and punish him." Ravi vows he won't stop until he exacts justice on Keerti's killer.
To know what happens next stay tuned to Dharam Patni on Colors TV/Voot app and this space.