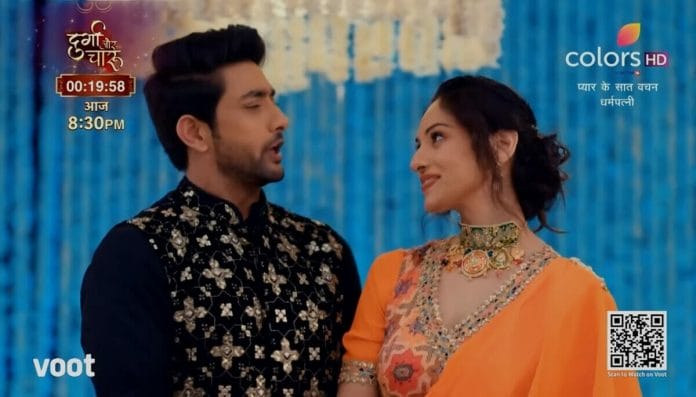 Dharam Patni Spoilers, Upcoming Story, Latest Gossip , Future Story, Latest News and Upcoming Twist on tellyexpress.com
Colors TV's recently launched show Dharam Patni is a rare love story of a simple sweet school teacher Pratiksha Parekh and a buisness tycoon Ravi Randhawa. Currently we are seeing that Keerti saves herself from Raghu's clutches. She returns home safely. Ravi, Keerti and Pratiksha, Malhar get engaged. Thakur orders Raghu to catch Keerti again by hook or by crook.
In the previous episode, Pandit jis at both place informed that there was no time left for the engagement. Raghu stopped tempo at a stop. Keerti jumped from the tempo. Some ladies surrounded her. Raghu failed to spot Keerti and left with tempo. Keerti called Ravi and told him that she was coming. She asked him to not inform anything to the family members. Keerti met Ravi.
Ravi helped her to get ready for the engagement. They came infront of the whole family and convinced everyone for their engagement. Ravi got engaged with Keerti. On the other hand Pratiksha got engaged with Malhar. Kavya got jealous. She lost hopes to get Ravi. Thakur's men check the tempo and failed to find Keerti. Thakur questioned Raghu.
Raghu said that Keerti was inside the tempo only. Thakur bit Raghu and gave him life threats. He asked him to find Keerti again. Raghu said that he would find out Keerti again and bring her infront of Thakur. Keerti got a call and went to receive it. She looked tensed. Ravi wondered what happened to Keerti, if she was in some trouble.
In the upcoming episode, A woman predicts a terrible storm that will end all previous relationships. Pratiksha informs Ravi that she prayed for Keerti and him. Keerti should be put to death, the goons determine.
To know what happens next stay tuned to Dharam Patni on Colors TV/Voot app and this space.