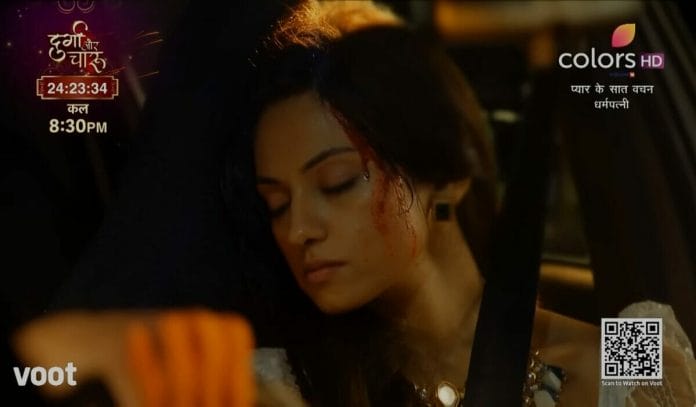 Dharam Patni Spoilers, Upcoming Story, Latest Gossip , Future Story, Latest News and Upcoming Twist on tellyexpress.com

Colors TV's recently launched show Dharam Patni is a rare love story of a simple sweet school teacher Pratiksha Parekh and a buisness tycoon Ravi Randhawa. Currently we are seeing that Keerti is taken to the hospital. Malhar makes Pratiksha drive his car and gets saved from being caught by the police. Hansa falls sick. Pratik calls the doctor.
In the previous episode, Ravi talks to Keerti while he drives the car. He mentions about the moments they spent together and cries. Malhar gets scared seeing the naka checking. He gets dream that police has caught him for killing Keerti. He requests Pratiksha to drive the car as he doesn't want to get arrested for drinking and driving. Pratiksha drives the car.
Malhar feels relieved. Ravi takes Keerti to the hospital. Keerti holds Ravi's hand. Ravi wishes to stay with her. Doctor allows Ravi. Ravi sits beside Keerti and recalls the moments they spent together. Ravi and Keerti's family reach there. Keerti's parents get emotional.
Ravi's mother prays for Keerti. Aditya comforts her. Kavya cries seeing Keerti and says that she wants to talk to her sister. Pratiksha reaches home. She learns that Hansa is not well. She gears up to call doctor. Pratik asks her to not worry as he calls their family doctor to check Hansa.
In the upcoming episode, Doctor says that Keerti needs AB- blood urgently. Ravi and others become desperate to get the blood but they fail to arrange it from anywhere. Keerti drops her hand. Ravi looks sad.
To know what happens next stay tuned to Dharam Patni on Colors TV/Voot app and this space.