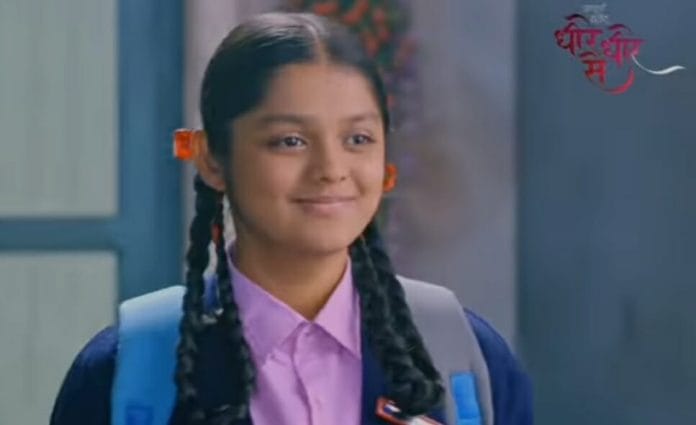 Dheere Dheere Se Spoilers, Upcoming Story, Latest Gossip , Future Story, Latest News and Upcoming Twist on tellyexpress.com
Star Bharat's show Dheere Dheere Se is gearing up with an interesting drama with Raghav wondering why Bhawana didn't replied him back meanwhile Aanchal gets happy seeing the surprise handmade dress made by Bhawana for her.
Now it will be interesting to see what will happen next? What will be the reaction of Raghav when he learns Bhawana is planning to fight for Barsati? Will Bhawana's decision upset Raghav? Will Raghav be able to stop Bhawana?
In the current track it shown that Aanchal telling Bhanu that she is the one who asked Bhawana to pay the lawyer fees using the money he gave Bhawana for her school trip. A FB shows in which Aanchal decides not to go to the school trip and convinces Bhawana to take that money and use it to pay lawyer's fee saying they are together in this.
The FB ends. Bhawana says to Bhanu they will surely win the case but Bhanu fumes in anger. Amit explains Vidya how they will get benefitted by Bhawana's this stubbornness which makes Vidya happy. Aarushi shows her new dress to Aanchal and says Amit bought her this which she is going to wear it for Abhishek's engagement and if Aanchal wants she can take one of her old dress. Aanchal forces a smile and says to her she will manage.
Bhawana who hears this feels guilty but Aanchal says to her she is fine. Other side Brij Mohan expresses his happiness with both Raghav and Gaurav as they both have their case hearing the next day. Bhawana decides to make a dress for Aanchal using her saree.
Raghav becomes restless not receiving a reply from Bhawana. The next day Aanchal expresses her happiness to Bhawana after seeing the dress. She then assures Bhawana she will fill her absence in the engagement and asks not to worry. Bhawana hope's the judge passes the verdict on their favor.
In the upcoming episode it will be shown that Meera's mother will question the Shastri's about Bhawana's whereabout. Bhanu will think himself not to spare Bhawana for insulting him.
In the court judge will scold Bhawana when the latter will inform him her lawyer is on the way. Gaurav will request the judge to pass the verdict on his client's favor. Bhawana will looks on worried.
To know more about what's happening in your favorite shows keep checking this space.