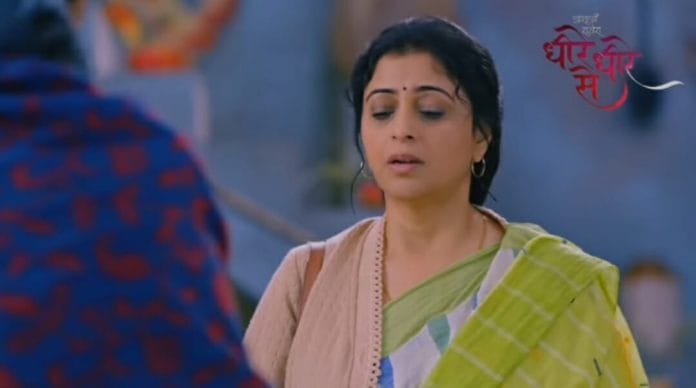 Dheere Dheere Se Spoilers, Upcoming Story, Latest Gossip , Future Story, Latest News and Upcoming Twist on tellyexpress.com
Star Bharat's newly launched show Dheere Dheere Se is gearing up with an interesting drama with Raghav helps Bhawana and Aanchal by taking Bhawana to hospital and paying the hospital bills and Bhawana decides to repay him. Now it will be interesting to see what will happen next? Will Raghav help Bhawana and Aanchal to reach home? How will Bhawana repay Raghav? What will Bhawana to do arrange money to repay Raghav?
In the current track it shown that Aanchal worries seeing Bhawana's unconscious state and prays God to send someone to help her while Savita expresses her happiness of Raghav is with them to Dimple also hopes God will do something to make Raghav stay with them forever.
Raghav is on his way to pick up Aarav finds Bhawana and Aanchal in the middle of road and rushes to help them. Bhawana gets admitted in the hospital. Raghav assures Aanchal that Bhawana is fine. Aanchal shares her worry of losing Bhawana too as she overworking herself and it's all happening after Deepak passed away. Raghav gets sad hearing it.
He then encourages Aanchal to be stay strong then informs her he has to pick up Aarav also he will clear the hospital bills. Raghav waits for the hospital bill of Bhawana to pay but when he receives Swati's call he leaves without paying. Aanchal learns and worries how to pay the bills.
Bhawana scolds Aanchal for admitting her in an expensive hospital which they can't afford meanwhile Raghav gets worried not finding Aarav so he searches for him everywhere. He then gets relieved when he finds Aarav and the latter assures him he is fine. Bhawana decides to pledge her bangle to pay the bills but Raghav arrives there and nurse confirms he made the payment.
Bhawana gets determined to repay Raghav. She then gets worried not finding her phone and Raghav learns through Aanchal the phone is her late father Deepak's and their last memory.
In the upcoming episode it will be shown that Bhanu and his brother will call Vikas. Bhanu's brother will inform Vikas they are willing to give him the upstairs room.
Vikas will tell that Bhawana's opinion in this matter needed too and asks her opinion. Bhawana will say that she don't agree with Bhanu's decision which will shock the Shastri's.
To know more about what's happening in your favorite shows keep checking this space.