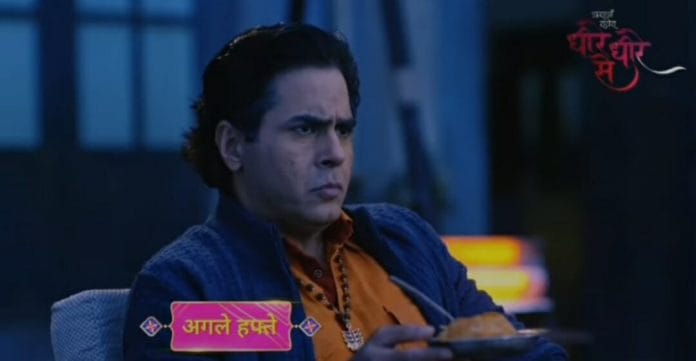 Dheere Dheere Se Spoilers, Upcoming Story, Latest Gossip , Future Story, Latest News and Upcoming Twist on tellyexpress.com
Star Bharat's newly launched show Dheere Dheere Se is gearing up with an interesting drama with Raghav finding Bhawana's phone in a damaged state meanwhile Swati learns through Aarav about Raghav's visit to the hospital and determines to find out the reason behind it at any cost.
Shastri's gets a warning from Khan which upsets the family members. Now it will be interesting to see what will happen next?
Will Bhanu be able to repay his debts to Khan on time? Will Bhawana will get the insurance money of her's back? What will Swati do to find out the reason behind Raghav's visit to the hospital?
In the current track it shown that Bhawana asks Aanchal to search the phone but Raghav asks Bhawana to calm down and tells her it might have fallen on the road where she fall unconscious so Bhawana decides to go there but Raghav insists he will check and once he gets her mobile he will find a way to return it to her.
He also pleads her to break her fast because he is sure God will help her get her insurance money. Bhawana and Aanchal reaches home and Bhawana asks Aanchal to hide it from Bhanu that she get hospitalized because he will stop her from keeping fast.
Aanchal gets upset. Raghav goes to where Bhawana fall unconscious and searches for her phone. He even requests one of the worker to let him know if he finds the phone and pleads God to help him find the phone recalling Aanchal's words.
Brij Mohan arrives there and takes Aarav with him to home. Raghav finds the phone in it's damaged state. Swati learns through Aarav about Raghav's visit to the hospital so gets determined to find out why Raghav visited the hospital.
Meanwhile Khan warns Bhanu to return his money in a week or else he won't never get back his tempo which upsets the entire family. Bhawana prays God to help them.
In the upcoming episode it will be shown that Bhanu and his brother will inform Vikas that he and his brother is willing to give the upstairs room to him. Bhawana will get shocked hearing it. Vikas will say to Bhanu and his brother that Deepak was not here so he want Bhawana's decision too and ask her is she agrees to Bhanu and his brother's decision.
Bhanu will sign at Bhawana to agree but the latter will say to Vikas that she isn't agreeing with Bhanu's decision which will shock everyone.
To know more about what's happening in your favorite shows keep checking this space.