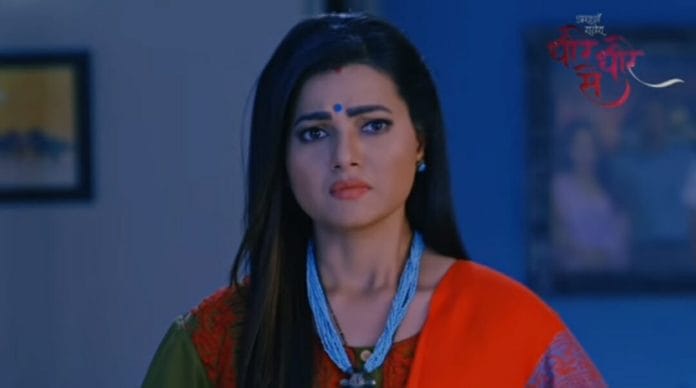 Dheere Dheere Se Spoilers, Upcoming Story, Latest Gossip , Future Story, Latest News and Upcoming Twist on tellyexpress.com
Star Bharat's show Dheere Dheere Se is gearing up with an interesting drama with Bhawana gets her phone back with the help of Raghav while Swati decides to use Raghav to trap him. Now it will be interesting to see what will happen next? Will Swati get succed in her plan? Will Bhawana change her decision to make Bhanu happy?
In the current track it shown that Bhawana pleads with Bhanu to forgive her but the latter leaves without having food. Malini shouts at Bhawana and goes inside. Meanwhile Swati decides to back home after she gets information about the medical bill truth. She sees the nurse is changing so goes to the other nurse and lies she lost her bag yesterday here which has cash and jewellery in it and requests to show the CCTV footage.
The nurse agrees. Swati gets upset that she can't able to get more information through the clip which the nurse showed her so asks the nurse to show her few more minutes of the clip but the nurse asks her to get permission from the management.
Other side Bhawana hopes she gets her phone and the insurance money back soon. Aarushi hurts Aanchal by expressing her bond with her father. Amit goes to buy airpods for Aarushi in a shop Raghav repaired Bhawana's phone. Raghav acts clever because of which Amit fails to see Bhawana's phone there.
Later Malini asks Bhawana her mobile to make a call and sends Aanchal upstairs for the same. Meanwhile Raghav distracts Swati and get the thread ball which Swati keeps it with her to make sweater. Raghav helps Bhawana to get her phone back using the thread ball.
Swati requests Raghav to take her to hospital the next day as she isn't feeling well which Raghav agrees. Swati gets happy and hopeful. Other side Malini asks Bhawana who is PS calling her continously. Bhawana gets worried.
In the upcoming episode it will be shown that Bhawana will come to the police station and find the man who fooled her behind the bar's. The officer will suggest Bhawana to punish that man but the latter will refuse.
Raghav will arrive there and make Bhawana realise the insurance money's importance and ask her to slap him. Bhawana will approach the man with determination and the latter will smirk.
To know more about what's happening in your favorite shows keep checking this space.