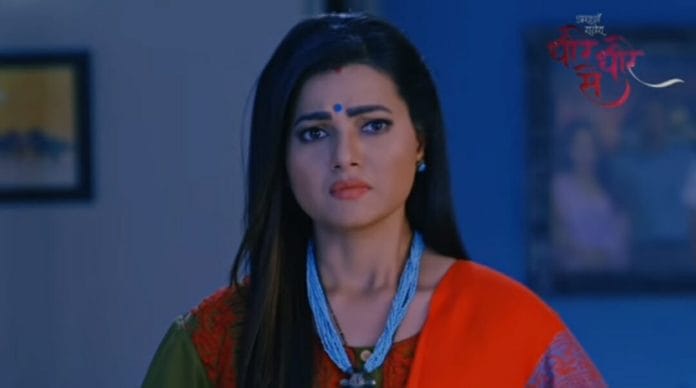 Dheere Dheere Se Spoilers, Upcoming Story, Latest Gossip , Future Story, Latest News and Upcoming Twist on tellyexpress.com

Star Bharat's show Dheere Dheere Se is gearing up with an interesting drama with Swati failing to get information from the hospital about the hospital bills while Bhawana pleads with Bhanu to forgive her. Now it will be interesting to see what will happen next?
Will Bhawana convince Bhanu to forgive her? Will Bhanu forgive Bhawana? What will Swati do to find out the truth of hospital bill? Will Raghav learns about Swati's plans?
In the current track it shown that Malini scolding Bhawana for insulting Bhanu by going against his wishes and says no one ever done this. Bhawana tries to clarify her side but Malini refuses to listen to her and asks her to not to act that she cares about the family then leaves the place.
Meanwhile Swati finds the hospital bills from Raghav's car which she takes a photo. Raghav who comes outside fails to notice this and helps Swati to collect Aarav's books from the ground. Abhishek blames himself for their current state but Jagjivan assures him it's not his mistake but Bhanu's who should rectify it. Bhawana confronts Aanchal about lying to Bhanu.
Aanchal justifies herself saying that no one in the family cares about them both. She further adds that now Bhanu wants the entire insurance money to spend it on Abhishek's marriage instead of using it for the entire family which he told earlier.
Bhawana advices Aanchal to not to speak this way and reminds her about Bhanu's help till date. The next day Swati goes to the hospital in hope to get information about the hospital bills but fails to get it which upsets her. Meanwhile Bhawana pleads with Bhanu to forgive her.
But Jagjivan supports Bhawana's action shocking Bhanu and Malini. Later Malini asks Bhawana to agree with Bhanu's decision to sell the upstairs room to get Bhanu's forgiveness which makes Bhawana feel helpless.
In the upcoming episode it will be shown that Raghav will show Bhawana her mobile from his balcony. Malini will call Bhawana and ask her to bring her phone to her. Bhawana will get worried how to get the phone from Raghav.
Raghav will throw a thread ball to Bhawana through which he will send her phone to her. The phone will reach Bhawana's side just then Malini will arrive at the balcony and stares ahead.
To know more about what's happening in your favorite shows keep checking this space.