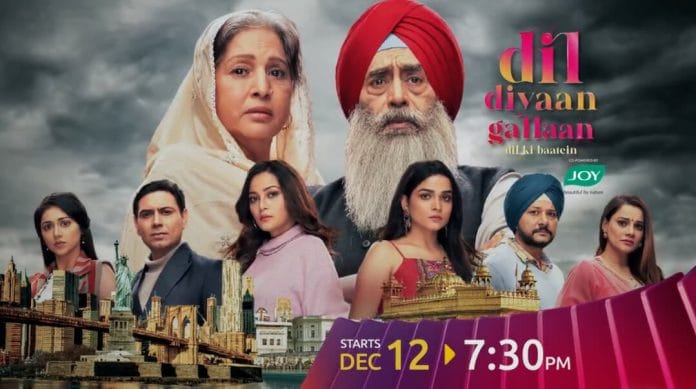 Dil Diyaan Gallaan 16th January 2023 Written Update on TellyExpress.com
The episode starts with the officer checking the papers are genuine or not. She says she needs the land which Kuswant wants from Dilpreet. She will fulfil the officer's demand in return. The officer smirks looking at her. Veer observes him. Maan says he wants to surprise Amrita by visiting Indonesia as she is taking time to come back. Adi replies he can't go there as he will feel bored and the place is not nice. Maan says he will manage and he asks for her hotel details and Adi gets nervous. Maan says he doesn't want Amrita to visit India that's all. Adi says he will give him the details after checking the mails. He tells Maan to sign the papers. There Randeep visits bank with Dilpreet and Ria. Nimrit calls him and instructs him to talk to Dilpreet about the NOC. Dilpreet goes to the manager's cabin to check his account. There Randeep meets his buddy and requests him to open the locker but he says Maan and Randeep's signatures are needed. Since Maan is out of India then Randeep needs to show the NOC. Randeep looks worried.
There Amrita tells the officer that she wants him to give her the land instead of giving it to Kushwant or Dilpreet. He will get dollars if he accepts her proposal. Officers asks why she wants that particular land only. Veer notices Kushwant in the court and gets scared thinking what he is doing here. Amrita shows Dungar Pal's papers to Officer where she states about why the land is perfect for growing the rare plant, its rich in minerals.
Officers agrees and she asks for one more favour from him which is about transferring a commission in her account. He goes to sign the papers and stands near her. He touches her hand inappropriately and she gets up in shock. Veer sees Kuswant is busy in talking and Amrita should finish the work before he sees her. There Astha comes and stops Maan from signing the papers. She flirts with him and diverts his attention. Adi thinks why she didn't let Maan sign the papers. Randeep requests his friend to find a way out, as he is not in touch with Maan. How would he bring his sign? His friend tells him to talk to Maan about the NOC. Afterall they are brothers. Randeep says he can't face him after so long. Amrita tells Officer to give her the number. He tries to misbehave with her and she twists his hand. She says she will expose him if he harasses her again. He grabs her hand and Veer comes in.
Veer beats up the officer angrily and Amrita asks him to stop. Kushwant also comes there and officer says it means Veer and Amrita both have planned this. Veer chokes him saying Kushwant and he also betrayed Dilpreet. Astha checks the NOC papers and thinks how Amrita got it? She calls Amrita and Kushwant picks it up. He warns Astha to control her daughter else there will be consequences. He mentions Punjab and Astha is shocked to hear that. Kushwant tells Amrita to talk to her mother. Astha asks Amrita being restless where is she right now? Amrita says she is in India and Astha gets stunned.
Precap- Randeep tells his friend to call Maan to talk about the NOC. Maan says he won't sign the papers if Randeep doesn't call him. Randeep gets emotional hearing his voice. There Astha tells Amrita to come back to New York immediately from Hosiyarpur.
Click to read