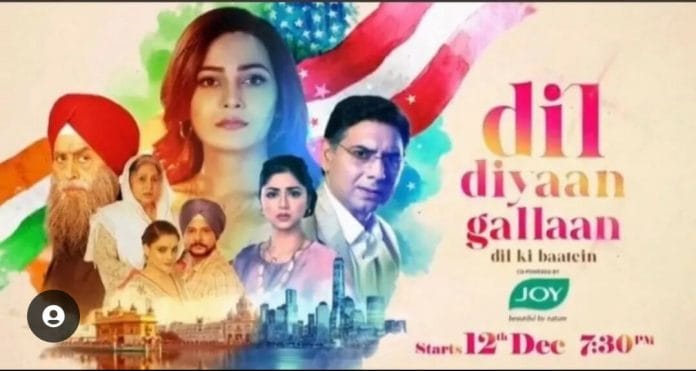 Dil Diyaan Gallaan 18th January 2023 Written Update on TellyExpress.com
The episode starts with Amrita saying she can't leave Hosiyarpur without fulfilling her promise. She looks at Veer and recalls how he beat up the officer. Sanjot comes to her and asks what she is thinking about. Amrita says Veer is upset with her as she hurt him unintentionally. She tells Sanjot to talk to him. Sanjot gets reminded of Maan again and says he used to get restless as well whenever someone is angry with him. Amrita gets happy to hear that, Astha gets Nimrit's parcel where she sees the salwar Sanjot made for her. Astha recalls Nimrit's promise to send her a salwar. She reads Nimrit's thank you letter and gets emotional. Astha gets sister vibe from her and thinks an unknown Indian is showing love for her but she is unlucky that she couldn't get it from her in laws.
Sanjot shows Maan's handwritten letters to Amrita. Amrita says dad being emotional and Sanjot asks her why she said dad? Amrita diverts the topic and Sanjot asks her she must be missing her father. Amrita says but Sanjot also living without her son for many years, her pain is nothing in front of her. Amrita tells Sanjot to read the letters. They laugh together and Amrita seeks her help to convince Veer. Ria brings panipuri home and later Dilpreet reveals to Randeep that Maan didn't transfer any dollars to his account. Randeep says it means they had a misunderstanding but still Maan is at fault for many reasons. Dilpreet says Ria brought panipuri for Veer. Randeep asks why so? Dilpreet says Ria likes Veer and he had doubts beforehand. But Dilpreet wants Ria to confess her feelings for Veer.
Sanjot feels like Amrita and Veer can be a good pair. She prays for them to get united. Amrita struggles to read the letters, Sanjot asks her why she can't read Hindi properly. Amrita mistakenly says she was in America. She then lies that she went there but then she stayed out of Punjab so she couldn't learn Punjabi well. Dilpreet tells Randeep that Ria chose the right guy for herself. He is happy with her decision. There Sanjot reads Amrita's letter in front of Veer. She states how lucky they are to have Veer in their lives. He is unique. Veer gets delighted knowing Amrita wrote special lines for him. He explains she wrote she won't leave him in coming seven lives. Amrita realises she wrote it without understanding the meaning and gets embarassed. She is about to leave and he stops her. He says he also won't leave her side. He then laughs saying he is kidding.
Dilpreet tells Sanjot she knows her son really well. He says but still Maan disappointed them a lot, Amrita hears that and says still he is blaming her father. She decides to prove her father innocent by finding out who sent the dollars.
Precap- Amrita shows Astha's sasural to her via video call. She shows Dilpreet to her and Astha gets angry.
Click to read