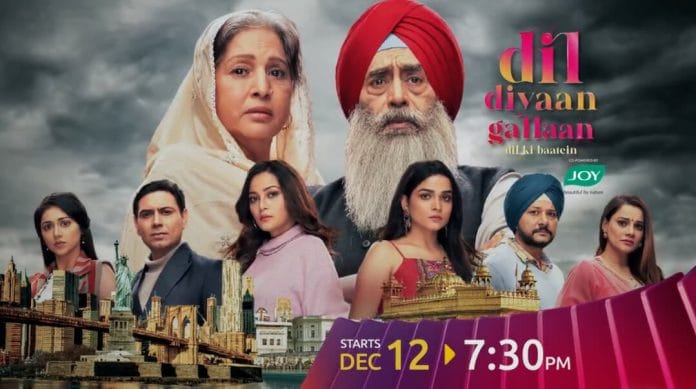 Dil Diyaan Gallaan 20th December 2022 Written Update on TellyExpress.com
The episode starts with Veer playing dhol after his plan succeeds. He happily tells Kushwant to leave as for six months he can't touch the land. Dilpreet thanks Veer and Amrita goes to jeep and starts it being confused. She fails to control the gear and the jeep goes backward. Kushwant tries to attack Dilpreet with a knife and the jeep hits him. Kushwant's face dips into cow dung and Amrita says sorry. Veer notices the knife Kushwant is holding. He steps on his hand and threatens him not to repeat this mistake again. Veer smiles at Amrita and tells Dilpreet that she saved him today. Amrita says she didn't save him knowingly but by chance. Dilpreet praises her upbringing that she doesnt like to take credits. Amrita tells her full name which is Amrita Brar. Ria says their surname is also Brar. Amrita and Ria get into an argument over Amrita's father. Dilpreet asks Amrita whats her father's profession?
Amrita replies he is a doctor. Before Dilpreet could ask anything more Veer replies her father is a poor doctor and thus she needs a job here desperately. Dilpreet says she will get it soon. Veer says he will take Amrita to her destination. Ria asks but why? Dilpreet says Amrita is not familiar to Punjab so he should go with her. Later Dilpreet tells Ria that he felt like Amrita is Mandeep's daughter. Ria says that's not possible as Mandeep didn't come here since long so his daughter won't dare to come here. Ria hugs Dilpreet saying who hurt her grandfather she won't spare them. Dilpreet gets delighted seeing her care.
Amrita looks at Veer and the latter stops the jeep. He asks her whats the matter. Amrita says why he lied to Dilpreet about her father. Her father is one of the top surgeons in America. Veer reveals Dilpreet hates America so he hid it from him. He has a reason. She says Veer also lied about the land, he says he did it for everyone's good. She asks if he doesn't feel guilty while lying. He says if that lie is for some good reason then it's okay. She says he is not that bad.
Randeep gets disheartened looking at the broken idol. He says he couldn't do anything for his daughter. He lives on his wife's earning. He complains against Dilpreet as he sent Mandeep to abroad but stopped Randeep from going there. Randeep says Dilpreet is not even giving the jewels to him in his need. He is tired of getting punished because of Mandeep's fault. Sanjot prepares the chole for Mandeep and Param loves the taste. Param says it's Sanjot's right to show love for her son. Dilpreet should not question her for that. Sanjot says she obeys him to maintain the peace in the house. Param takes Sanjot to Mandeep's room forcibly. Sanjot gets emotional and sees Dilpreet's photo with his two sons. She says Mandeep misses her cooked chole maybe and she makes it every year on his birthday in this hope he will come and eat it. Sanjot blesses her son and gets emotional.
Precap- Veer comes out of his Jeep with Amrita. She slips and he holds her hand. Ria spots them and feels jealous. Amrita receives a grand welcome by Dilpreet and Sanjot whereas Ria gets irked by that.
The episode starts with Amrita and Dilpreet talking in Punjab. They smile at each other and Dilpreet asks her if she knows Veer. He drops his phone and she bends down to pick it up. He blesses her and she gets happy. He says he won't move from this place until he gets his rights back. Mandeep receives Amrita's call and Dilpreet utters some holy words. He feels it's his father's voice in Punjabi. Mandeep and Astha ask her if she is really in Indonesia. They heard a voice of an Indian. Amrita says Indians are everywhere in the world. Mandeep says he misunderstood her maybe as his daughter can never tell a lie to him. Amrita feels guilty and says she will go to the hotel. She says love you to her dad and disconnects the call. Mandeep shares with Astha that he felt like he heard Dilpreet's voice only. He feels sad.
Veer talks to the incharge of the Panchayat office. He explains about the document he brought. He says this land belongs to Government and they sent a notice and a mail too. So until the digging is finished noone can own the land. Kushwant learns that Dilpreet is not leaving the land so the latter goes to warn him. Amrita video calls Mandeep and signals Astha. Astha bursts a balloon to surprise Mandeep on his birthday. Amrita wishes him and Mandeep gets delighted. Amrita thinks she didn't want to lie to him. There Dilpreet tells his friend that he won't lose hope but he will get back his land. Amrita hears his inspiring words and says she believes he will succeed. Dilpreet gets happy seeing her trust and asks her from where did she come? Before she could answer Kushwant arrives with his men and dance.
Click to read