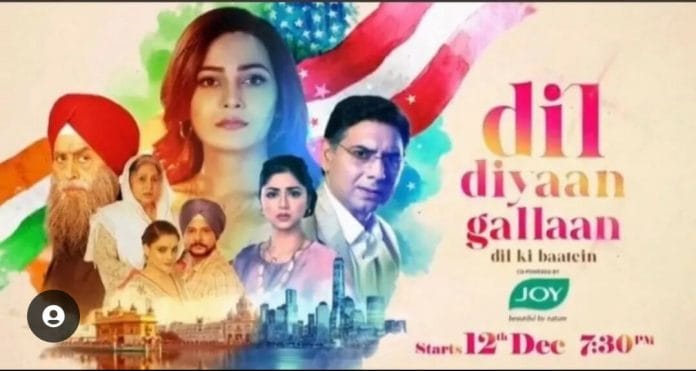 Dil Diyaan Gallaan 21st December 2022 Written Update on TellyExpress.com
The episode starts with Param asking Sanjot if she cleaned Mandeep's room. Sanjot says she did it when Dilpreet was out for some work. She doesn't want to forget becoming Mandeep's mother for Dilpreet's anger. Dilpreet returns and calls out Sanjot. Sanjot panics thinking now she will get caught by him. She asks Param to do something. Dilpreet shouts Sanjot seeing her near Mandeep's room. He asks her what she is doing here? Sanjot says she was just checking the lock in open or not. She diverts his attention and asks about Ria. Dilpreet says she went to bring a medicine and will be back soon.
Sanjot says she made all the arrangements for her welcome. Later she misses Mandeep and he also misses her. Astha brings chole bhature for Mandeep to make him feel better. She plays a voice note of Sanjot who is wishing birthday to Mandeep. Mandeep gets delighted hearing that and Astha tells him to not to be sad. Ashta gets her aunt's call who tells her about an antique which she ordered from a seller but that Indian seller didn't deliver that yet. He is not answering her calls too. Astha shares with Mandeep and the latter asks who is this unprofessional seller. Randeep cries saying his father didn't send him to abroad which he did for Mandeep. He means nothing to Dilpreet.
Veer drops Amrita to her hotel and she gives him a chocolate. He thinks it's for him but she replies its for Ria who is actually brave and saved Dilpreet. Veer gets impressed hearing her. Their hands get touched while holding the suitcase. Veer stares at her and she brings him back to senses. He says he can take her to Dungar Pal. She replies he doesn't need to do that, she will manage. He gives her his number if she needs anything. Amrita goes to the reception area and one lady unnecessarily talks to her. Amrita becomes clueless and later she realises her bag is missing.
She gets tensed and there Sanjot and Dilpreet prepare for Ria's welcome. Dilpreet goes out to bring some stuff. Sanjot brings out Param from the room in his absence and Param leaves. Amrita enquires about that lady who ran away with her suitcase. They tell her that they don't have any idea. Some men try to misbehave with her while she stands tensed thinking where to go to get back her luggage. She pushes those men away and runs. She hides from them and she calls Dungar Pal but the latter doesn't pick up. She then remembers Veer and thinks of calling him. Ria calls Veer saying noone is happy to see her here as Sanjot and Dilpreet are making her wait. Ria asks if Veer dropped Amrita to hotel. He says yes. Amrita calls him and notifies him that her suitcase got stolen and some goons are behind her.
Ria waits for Veer and he arrives with Amrita. Amrita says she doesn't have any documents to check in to a new hotel. But every hotel is asking for passport. Amrita wants to go to washroom and she falters. Veer holds her hand. Ria gets jealous seeing them. She thinks why Veer brought Amrita here and she takes Veer aside.
Precap- Amrita and Ria receive a grand welcome by Sanjot and Dilpreet. Ria hugs Dilpreet and Veer checks Amrita's full name on the passport and gets shocked knowing she is Mandeep's daughter.
Click to read