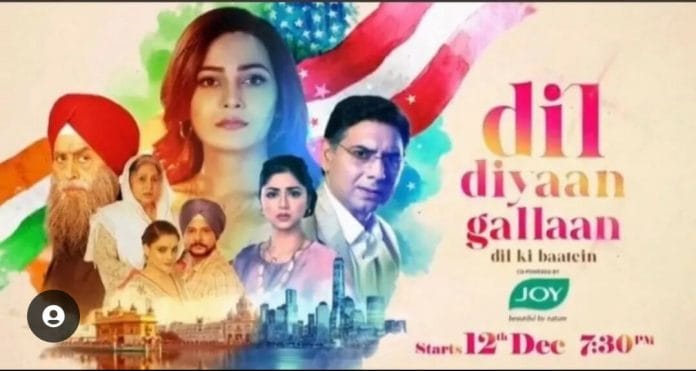 Dil Diyaan Gallaan 21st January 2023 Written Update on TellyExpress.com
The episode starts with Kushwant's spy telling Dilpreet and Veer to leave Rocky. Amrita attacks one of the goons. She kicks one and there Veer, Dilpreet and Ria too start beating the goons. Kushwant's goon takes out a knife and heads towards Amrita to stab her but Veer sees that. He goes in between to save her and gets stabbed by the goon. Dilpreet and Ria shout Veer's name and the latter collapses. Ria starts crying holding him. She tells him to wake up.
Dilpreet and Amrita kick out the goons and Ria blames Amrita for involving Veer in this matter. He is injured because of her. Maan gets teary looking at Ria and says their children should not suffer due to their personal grudges. He imagines child Randeep and finally agrees to sign the papers. Astha gets emotional knowing that and she comforts Maan. Randeep gets the news on next day and he dances out of joy. He shares his happiness with Nimrit that he misunderstood Maan a lot but the latter solved all his problems in few seconds. He says he used to consider Maan his role model and wanted to follow his lead always but it didn't happen. He cries saying God knows when he will be able to meet his brother.
Nimrit hugs him to asks him to stop crying. Sanjot overhears their talk. Ria and Dilpreet take Veer to the jeep to take him to the hospital. Ria tells Amrita to bring a bag which they forgot inside. She leaves and Dilpreet informs Randeep that Veer is not well and they are taking him to the hospital. He tells Randeep and Sanjot to come at once. Dilpreet starts the jeep and Amrita rushes to stop them but in vain. Ria says she won't let anything happen to Veer, he lost too much blood. Dilpreet says good hospital is 20 km away and it will take time to reach there. Ria holds Amrita responsible for Veer's situation.
Amrita asks a passerby where is the nearby hospital here? The man replies they have few hospitals only in this village and some serious patients even die before they reach the hospital. Amrita gets shocked to hear that and she enters Gurudwara. She prays for Veer's recovery saying he is a pure soul who helped her in need. When he didn't know her he helped her then as well. Dilpreet and Sanjot can't live without him, he has to get well soon. She breaks down to tears.
Dilpreet passes ten kilometres and asks Veer not to give up. Astha informs Amrita that Maan signed the papers. Amrita says but she lost even after winning. She says Veer is wounded and he is critical. Astha asks her to relax saying he will be alright, Amrita says she is really scared for him and the hospital is also really far. She has to reach him, she hangs up and Astha looks stressed. Veer gets admitted to the hospital and Ria cries hugging Sanjot. She says Veer has to live, he can't die. Sanjot consoles her.
Pracap- Dilpreet asks the Doctor to treat Veer properly. Doctor doesn't reply positively. Veer's family gets scared.