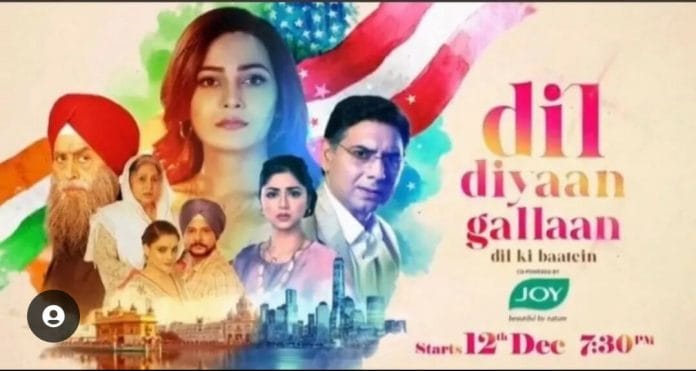 Dil Diyaan Gallaan 3rd January 2023 Written Update on TellyExpress.com
The episode starts with Veer asking for food from Sanjot. Amrita hesitates and Sanjot tells her to go to the dining table. Amrita is lost in thoughts and Ria glares at her. Dilpreet comes to the dining table and Amrita looks angry. Ria says Veer cracked a joke in the airport so she tells this to Dilpreet. Amrita recalls how Dilpreet broke the chole bowl and insulted Maan. She recalls her bad childhood memories and leaves the table being sad. She locks herself in the room and gets restless. Everyone gets confused. Amrita says she can't believe she is staying in the same house where Maan didn't want her to send. She says she has to tell her father about this. She thinks but if he learns she lied to him he will start hating her. She decides to leave the house but then realises she doesn't have passport. She thinks what she should do now.
Sanjot knocks on the room door and asks Amrita to have food. She adds if there's any problem then Amrita can hug her. Amrita gets disheartened and controls her emotions. She tells Sanjot she is coming later. Amrita opens the door when she leaves. Amrita wonders why her destiny took her to the same place from where her parents had been thrown out. Randeep brings some presents for Nimrit to cheer her up. Nimrit shows him some dresses saying she wants to buy them. Randeep says she will look great in these. Doorbell rings and Randeep sees the landlord has come. The landlord tells them to empty the house and shop as he needs money for his son's studies and his daughter's marriage. Randeep says how is it possible this soon. The landlord gives them two months time, Nimrit says they will buy the house and shop both.
She says they will arrange 10 lakhs. Randeep asks her later how would they do that. Nimrit says they will get the NOC with Ria's help and also will take Sanjot's jewels. There Astha calls Amrita to come soon as they are missing her alot. Amrita hides her pain and says she is trying her best. Nimrit tells Ria about their problem and the latter says the NOC matter won't get solved this soon. She asks Nimrit to talk to Dilpreet as he is sick. Ria then shows Amrita's passport to Amrita and the latter gets shocked. Amrita tries to take it but Ria accuses her saying whats her motive of coming here? If she doesn't have dollars anymore. Ria says she can't take anything away from here. Everything belongs to Dilpreet. Amrita says she is not here to take anything. She just got to know Dilpreet is her grandfather. Ria says Maan is a selfish person and she is like him. Randeep also suffered because of Maan. Amrita says her father is innocent and she wants to leave India. Ria says she will give her the passport on one condition. Ria tells Amrita to get Maan's sign on the NOC papers. Because of Maan, Randeep never became financially stable. So if Amrita doesnt get Maan's sign then she won't get back her passport. Amrita asks her how can she blackmail her like that. Ria says Randeep will get his rights and Amrita has to fulfil her condition for him.
Precap- Amrita forcibly takes her passport from Ria and stops her from blaming Maan. Amrita is about to leave but Veer says she won't get this chance again to sort out the issues between the families. She leaves adamantly.
Click to read