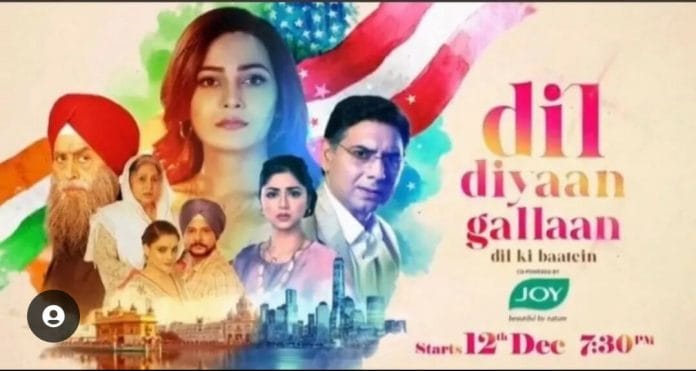 Dil Diyaan Gallaan 4th January 2023 Written Update on TellyExpress.com
The episode starts with Amrita telling Ria that she doesn't have anything to do with her. They should forget they ever met each other. She pleads Ria to give back her passport. Ria says Amrita has to pay the debt her father has. Ria says her father suffered because of Maan. He is the main culprit. Amrita says why did she blame her father without knowing the complete truth. She has no idea how Dilpreet didn't even let Maan enter the house when he married Astha. Sanjot comes and asks Ria what happened. Ria diverts the topic and Sanjot asks Amrita whats wrong? Why she looks disturbed.
Sanjot applies the same process on Amrita so that she vents out her frustration. Amrita goes on terrace with Sanjot and shouts why it happened with her? Sanjot tells her she is like her granddaughter. Amrita thinks because it's true. Sanjot says Amrita reminds her of Maan whom she didn't see for many years. Sanjot says she feels she is not a good mother so if Amrita shares the issues with her then the burden will become less. Amrita hugs Sanjot and cries. Sanjot tells Amrita to address her as Biji not as aunty. Amrita says Sanjot is really a nice human being. Sanjot says she will make her drink ginger tea in early morning at 7 am. It gives her peace when Dilpreet chants. Amrita thinks Sanjot's wish will not get fulfilled.
Government officer questions Saini about legal notice of the land if there digging will take place in real. Saini reveals that he obeyed Veer what he told him to seal the land. Kushwant warns Saini not to notify anything to Veer but he will handle the matter on his own. Kushwant tells the officer that he will make sure Dilpreet doesn't get back the land again. Amrita goes near sleeping Sanjot and says sorry for not staying longer. She says she can't stay with Dilpreet under the same roof as the latter insulted her father. Amrita goes to Ria's room secretly at night and takes the key under her pillow. She opens the closet and takes away her passport.
Veer stops Amrita saying if she will not tell him bye? She gets angry knowing he got her passport few days back but didn't inform her that. He says she came here as the key to solve the issues between the families. He didn't hide the truth for no reason. He says her grandparents suffered because of Maan. Amrita says he doesn't know about Maan's pain and he says she doesn't know about Dilpreet's story either. She says she doesn't want to know anything about Dilpreet. He cursed her father. Veer holds her hand and says how Dilpreet raised an orphan like him so he can't hurt someone easily. Amrita says it's Dilpreet's ego nothing else. Veer says he saw a hope in her which will end the pain of Dilpreet. She says she wants to leave, Veer says she is not someone who can give up easily but she came to India for her thesis and even lied to her father. So she should clear the confusion atleast. She doesn't need to lie to her father to come to India. Amrita says she won't come here again. Veer gets pissed and says she can do whatever she wants now, it's upto her. He leaves.
Precap- Sanjot and Dilpreet look for Amrita and Kushwant creates scene in the house and taunts Dilpreet for sealing the land with Maan's help. Veer gets shocked.
Click to read