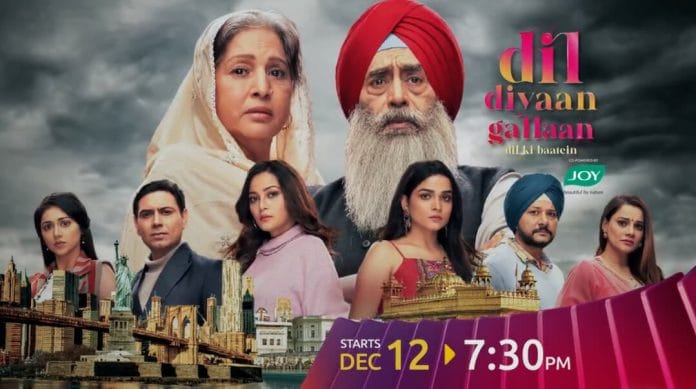 Dil Diyaan Gallaan 5th January 2023 Written Update on TellyExpress.com
The episode starts with Sanjot calling Amrita to drink tea with her. Veer hears Sanjot's voice and gets shocked and he goes out to check. Sanjot asks him where is Amrita, she promised her to have tea with her last night. Amrita calls her and Veer feels relieved. Amrita asks her to sit and addresses her as Biji. Sanjot gets emotional hearing that and goes to her. Amrita kisses her hand and the doorbell rings. Veer thinks Amrita will unite Dilpreet and Maan finally. He opens the door and Kushwant enters the house with the villagers. He pushes away Veer angrily. Kushwant questions Dilpreet's integrity. Dilpreet comes and Kushwant calls him a cheater for deceiving the Panch and villagers. Veer asks Kushwant how dare he blames Dilpreet. Kushwant says Dilpreet broke the law for his own selfish reason. He adds the land is sealed for false reason so that he can't get the land. Its done by Dilpreet, he calls the government officer inside. Veer gets shocked seeing him, Kushwant says Dilpreet took Maan's help to snatch the land from him. Dilpreet remains confused and says he did nothing wrong.
Kushwant shows him a scarecrow where Maan's face poster has been shown. Amrita gets shocked seeing that. Kushwant says Maan only talked rubbish that the land belongs to Government. Veer intervenes saying Maan is not behind that, but he made the fake papers. Saini lies to everyone that Maan called him from America and bribed him. Veer questions him why is he lying? He tries to explain that Dilpreet has no idea about anything. Dilpreet shuts Veer up and asks Saini if he really got a call from America. Saini says yes and adds Veer is lying.
Kushwant keeps accusing Dilpreet that he took his cheater son's help and fooled the villagers. Dilpreet loses his calm and Veer says where is the proof that Dilpreet is culprit? Kushwant asks Dilpreet to show his account balance. Veer checks it in Dilpreet's phone and they get shocked seeing dollars. Kushwant shows the money to villagers and says Maan is sending dollars to Dilpreet and they are deceiving the villagers. Veer says why noone wants to believe he did all these not Dilpreet. Villagers refuse to accept Veer as the culprit.
Kushwant declares Dilpreet a deceiver who fooled the innocent people. He tears the paper and Dilpreet stands silently. Kushwant says they will blacken Maan's face so that noone dares to cheat them again. Sanjot and Veer try to stop the villagers from doing so but in vain. Maan's poster gets blackened and Amrita imagines her father in shock. Sanjot asks Dilpreet to do something about it. Villagers push away Sanjot and Ria holds her. Dilpreet lashes out at them and tells them to leave his house. Veer tries to beat them with stick. Dilpreet says he will not spare them if they don't leave at once.
Precap- Kushwant says Dilpreet shouldn't have become a parent as his sons left him alone. Veer says he will bring back Maan to Sanjot. Amrita thinks she can't stay here so she runs on street. Whereas Randeep saves her from falling.
The episode starts with Amrita telling Ria that she doesn't have anything to do with her. They should forget they ever met each other. She pleads Ria to give back her passport. Ria says Amrita has to pay the debt her father has. Ria says her father suffered because of Maan. He is the main culprit. Amrita says why did she blame her father without knowing the complete truth. She has no idea how Dilpreet didn't even let Maan enter the house when he married Astha. Sanjot comes and asks Ria what happened. Ria diverts the topic and Sanjot asks Amrita whats wrong? Why she looks disturbed.
Sanjot applies the same process on Amrita so that she vents out her frustration. Amrita goes on terrace with Sanjot and shouts why it happened with her? Sanjot tells her she is like her granddaughter. Amrita thinks because it's true. Sanjot says Amrita reminds her of Maan whom she didn't see for many years. Sanjot says she feels she is not a good mother so if Amrita shares the issues with her then the burden will become less. Amrita hugs Sanjot and cries. Sanjot tells Amrita to address her as Biji not as aunty. Amrita says Sanjot is really a nice human being. Sanjot says she will make her drink ginger tea in early morning at 7 am. It gives her peace when Dilpreet chants. Amrita thinks Sanjot's wish will not get fulfilled.
Click to read