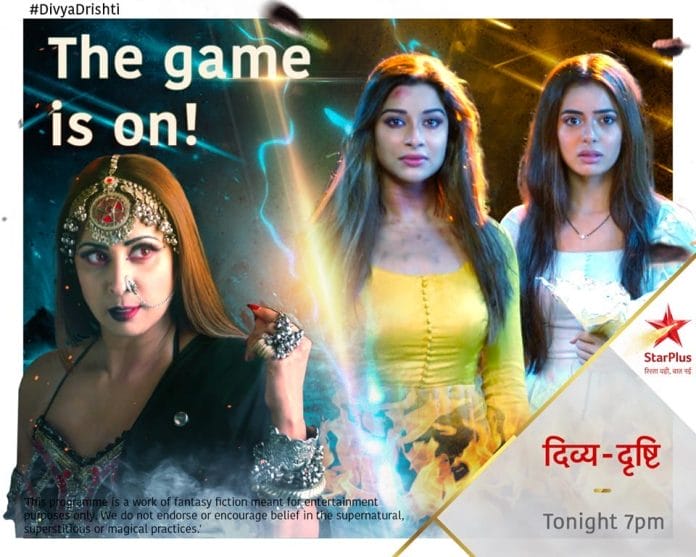 Episode begins with Rakshit comes to kitchen and sees his mother working affectionately. Mahima sensed something unusual in his eyes after a long time. He is about to talk to his mother but at the end moment Pishachini appears there asking for herbal oil. Mahima takes Pishachini from there and asks Drishti outside to help her in something. Rakshit notices pishachini is applying oil on her daughter's hair and he got a knife by his magic and tries to attack Pishachini. Drishti comes there at the right time and she stopped Rakshit from doing anything wrong and takes him away from there before Pishachini can come and check.
She takes him away in a room where all the family members are present, she asks him who is your wife? Rakshith says you are Mrs Shergill. All the family members rejoice as Rakshit regains his memory and Rakshit apologizes to everybody for misbehaving in the meantime. Divya says you should say sorry because you talked very rudely with my sister and you all the time you rant the name of Pishachini.
Drishti says to Rakshit to pretend like he is in team Pishachini. In this way, they will also get time to figure out what to do next and Pishachini will not form any sort of doubt on them. Drishti takes away Rakshit to a riverside for some talks and there both of them share some intimate and romantic moments. Drishti pulls his leg saying now that you're regain your memory what should I say to Rocky? Rakshit almost loses it when it says Rocky is no one but her sister Divya. Rakshit takes Drishti in his solace when suddenly she faints in his arms. Rakshit tries to wake her up but she is not responding. On the other hand, pishachini get indication that tonight in the middle hours of it, Divya and Drishti will remain weak and they won't be able to use their power like earlier during that time. So this is a golden chance for Pishachini and her daughter to kill those sisters.
Divya and Drishti both gets visual in a form of memory where they can see their mother is crying and saying that when my daughters will be the age of 25, that they will be very dangerous because their powers will remain weak for a while and anyone can cause harm to them during that period. Divya and Drishti both gets up and starts to look for each other to discuss this matter. Both of them mutually decided to keep the mother daughter duo busy to such an extent that they don't realise when the night gets over? Exactly the same way how their mother used to distract them during their birthdays in the childhood.
Patali is throwing her dolls here and there because she has no one to play with and she is angry for that. Rakshit says that he will play with her and will ask the entire family to play with her as well because he cares for his daughter. Rakshit comes to the family and ask them to playing with his daughter as she is feeling bored. Drishti at first denies and puts up a drama but later on, she agrees to play cricket with them. Romi informs both the sisters that Patali has no heart and Rakshit and Drishti both tries to look for it somewhere. They got it inside the mirror and discovered it as a door to hell. They go inside and gets the sound of a heart beating but the area is so unusual and terrible to them that they are not able to figure out what to do next.
Precap – Divya and Drishti stabs the heart of Patali. An explosion took place in the Shergill mansion.