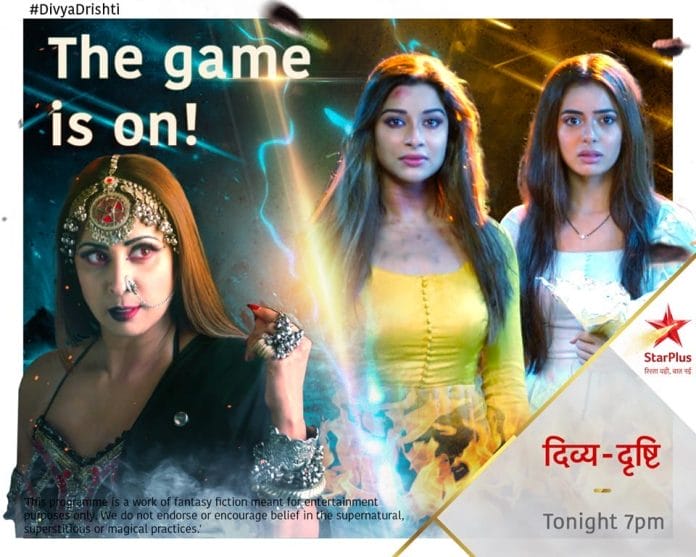 Episode begins with Pishachini is making efforts to bring out the heart of Patali from Rakshit's body. Divya and Drishti are getting restless when Drishti says I can't sit idle here, I have to go and check what is happening? Divya and Drishti comes near the wall and makes a whole to see what Pishachini is doing with Rakshit body and Patali. Drishti gets scared to see her way of doing stuff. She thinks what if she is trying to double cross us? Divya asks Drishti to calm down while Pishachini brings out the heart of Patali from Rakshit and connects it with Patali's body. She gained sense and opens her eyes whereas Drishti and Divya comes inside and says we will not let you win today at least. Patali attacks them and both the sister got affected as their powers are becoming weak now. Patali says the night is still not over and I will kill you and they trapped Divya and Drishti and took them to the hall while calling the entire family down to have a last look of their favourite daughter in laws. Everyone comes down all decked up and they are prepared in traditional bengali attire for Dussehra. Mahima opens the door and so many ladies with smoke and drum entered the house and starts to roam around Patali and Pishachini with it. Patali asks them to stop doing all this when Rashi and Simran gives Drishti and Divya the same dress pair to wear. They went for change when Pishachini attacks a random woman. Mahima asks Pishachini to leave her but she is not listening. Meanwhile, Pishachini was pushed back by a magic and she noticed that both the sisters are coming together hand in hand. Both of them appears in front of Pishachini you cannot succeed in the motive of hurting my family until we were alive .
They stand strong in front of Patali and Pishachini and looked determined. While Pishachini is about to attack them when suddenly Rakshit there in a form of Anjaan. He challenges Patali that I will save both the girls from you. Pishachini realises that all this while Rakshit is only pretending to be with her as his memory is back much earlier. All the people starts to run here and there as Divya, Drishti and Rakshit wants all of them to go out of the house as this place is not safe anymore. Divya and drashti calls for their flying magic board to hear while Rakshit is confronting Pishachini and Patali together. Drishti also joins Rakshit in stopping Pishachini and Divya as all the family members to get up on the flying board.
All the family members along with Drishti, Rakshit and Divya leave from there in the flying board along with Rakshit and Drishti. Pishachini gets shocked to see Divya and Drishti have more power than before and now Divya is getting emotional to see his big sister. pishachini is shocked to realise that they have the power to even fly now like her. She decides to follow them and find out where they are. On the other side, Divya and Drishti are flying and trying to figure out some plan so that they can hold on to Patali and Pishachini for the night at least.
Rakshit tells the family member that we have to go divided in different places so that we can distract this mother sister duo for some while. The family members are not so sure about the plan but on insist by Rakshit they finally agreed to do what he is asking for. Divya, Drishti Rakshit and Mahima comes at a shooting spot where that remembers mistaken them as the dancing couple and asks them to get prepared. Drishti shares very close and romantic moment with Rakshit after a long time. Both of them are discussing how tough the first few days are for them. Pishachini uses her magic to find out where they can be. She along with Patali are coming to the shooting location as well. The family took shelter inside a bus while the other persons are inside shooting spot.
Divya and Mahima are working together when they suddenly spots Pishachini there and their think how come she is aware about our location. Patali plays a prank on a family to find out if both the sisters are inside the bus or not. Romi took the lead and guide the entire family to do what is right rather than falling for the trap of Patali. Ojaswini informs Patali the sister duo and not present inside the bus, Shergill family members are shocked with this behaviour of her and confronts her for this act.
Divya, Drishti, Mahima and Rakshit are are talking to each other when they noticed Patali and her mother and both are in the fair Rakshit gets frustrated and he starts to wonder how come this people know about them being here ?
Precap – All the family members are in bus and Divya is driving the bus. Patali is caring them with her antics.