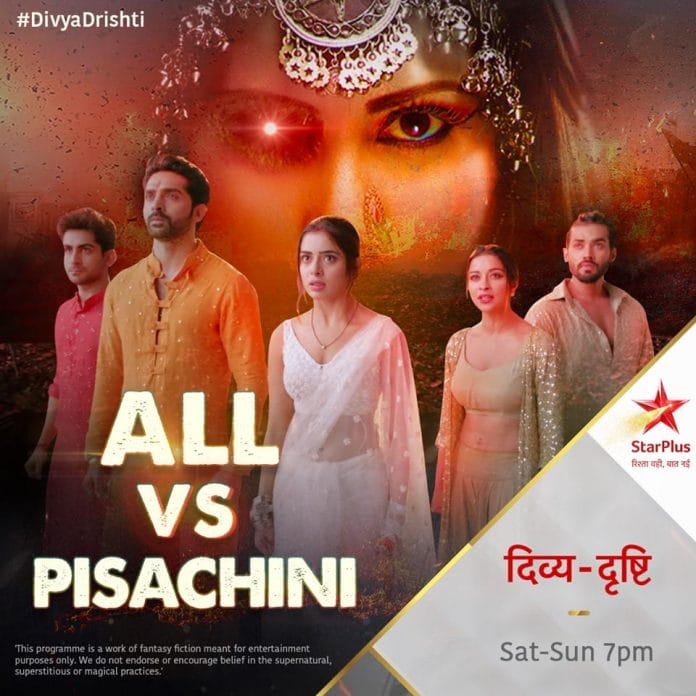 Episode begins with Rakshit is requesting pishachini to send a doctor for Mahima. She says that she will return soon with a doctor.
Rakshit is panic and he is waiting for a doctor to revive his mother when Drishti comes in the room to look for him, he is already broken and Drishti tries to make him understand. Rakshith says when will this doctor appear to check my mother?
Drishti tries to console him from the obvious shock he is going to get. Simran kam sign in forms that doctor has appeared in the house to check Mahima. They all come in the hall area and the doctor says I have already checked her and she is no more among us.
Rakshit is not ready to accept this and he starts to say that the doctor is useless and he is giving baseless verdict. He tries to wake her mum up but she is already gone and everyone is trying to console Rakshit but he gets berserk and call Lal Chakor to come in front and face them directly. Divya se still the time we got a chance to complete the last rights of Mahima aunty we need to keep her in a room to preserve her body.
Their set out to look for the real culprit who is in the house. Simran says that Ashish who is the boyfriend of Nisha tries to misbehaved with her in the meantime when they are actually trying to gain some stuff for the people of the house so that they can cope up with the situation. They all starts to doubt on Monty he is the only one who is from the inter house match and family members are gathering together.
Divya Drishti to take care of yourself as it is not good for health to take so much stress, suddenly Drishti noticed someone is working in the house with the red coat on. Drishti decides to follow the person along with Divya and she almost catch him but the person transformed into Lal chakor and Drishti almost is going to fail from the staircase but Divya uses her powers and holds her. They all decided to check out something to prevent that acts on their family members.
Rakshit is trying to interrogate each and every person to find out what is going on. Each one of them has made Monty their prime suspect. Rakshith keeps Monty in room captive and ask Shekhar and Ashlesha to have an eye on him.
On the other hand, Pishachini is unable to see anything because she called a doctor for the mother of Rakshit. She is going hell angry and is threatening to attack Lal Chakor with her weapon. Meanwhile, Divya says to Drishti that you should tell the family members and specially Rakshit about her pregnancy.
Suddenly Rakshit comes in the room and Divya complaints to him that Drishti is not taking care of her at any state. She was closed the news of Drishti being pregnant to Rakshit and he becomes emotional that in such a crucial situation of the house they are not even able to celebrate the biggest happiness of their life.
Suddenly they hear the typical music of Lal Chakor and everybody comes at the whole area including Shekhar who was with Monty and Ashlesha. Shekhar comes to have a check on the living his mother, unfortunately they noticed that Ashlesha is floating in the air and she is also no more like Mahima.
Shekhar feels shattered and tries to console him as he is sobbing hard for his mother. Shekhar tells Divya that if that Monti turns out to be that Lal Chakor then I will not spare him at all. everyone is upset over the fact that one after another in the family members are dying in front of their eyes. The wife of Monty tries to make everybody understand that no matter what Monty cannot be the reason behind these mishaps in the house.

Precap – Rakshit and Shekhar are digging the walls of the house when Monty comes out from a wall.