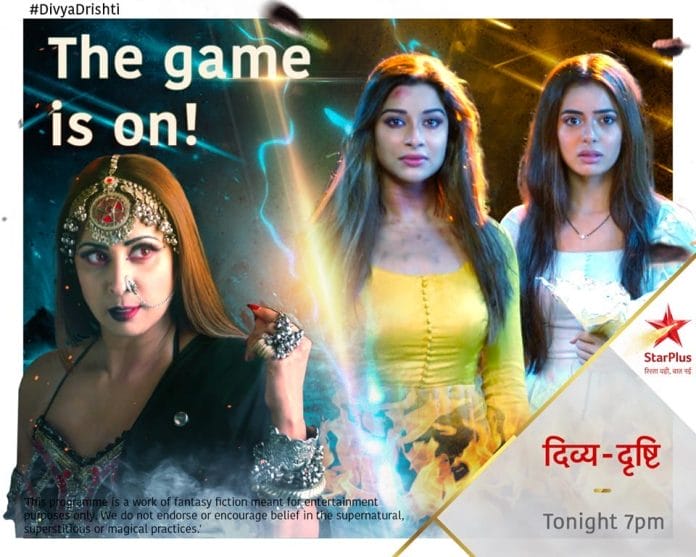 Episode begins with Divya saves herself somehow from Lal Chakor and is proceeding to do her work in the house. On the other hand, Drishti Rakshit and Shekhar and getting worried for Divya when they had a flashback that what plan they made with Divya. Drishti remembers telling Divya that she will go there and give the letter to Romi so that they get the letter and and reached the place where they want them to come. Divya inter between where are all the dead bodies are kept in the Shergill house. She placed the letter in the hand of Romi so that Pishachini and Lal Chakor can notice it and do as they desire.
Divya gets emotional to see the family members are lying as dead bodies and she felt bad. She promised to Romi that she will not let his dead get wasted and she will surely take revenge from Lal Chakor for it. She is going to come out of the room when she heard pishachini is coming in the same direction so to save herself she sleeps as a dead body below a white sheet.
Suddenly she noticed that one of the dead bodies are missing from the lot and she wonders how can a dead body goes missing like that. She does magic to divert the mind of Pishachini so that she can go out of the room and she used the split oil in the kitchen to ignite fire.
Due to the fire the cylinder got blast and Pishachini and Lal Chakor both get shocked to see that so much is happening in the house. Divya took the opportunity and goes out of the room before anyone can not a server but at the time of exiting the house she face difficulties as all the doors and windows are sealed by magic of Lal Chakor and there is absolutely no way out. Divya feels helpless as her magic sar not working in the house and she is absolutely not getting what to do right now.
Shekhar, Drishti and Rakshit are waiting for Divya to send them any sort of signal but they realised that she must have got trapped inside the house that is why she is unable to do so. Rakshit and Drishti hatches a plan to rescue Divya and they create a fake earthquake so that the Pishachini and Lal Chakor get obliged to open the doors and windows.
As soon as they open the window, Divya understands that this is her opportunity to go out and she also understands that it must be her big sister who is doing it all call to rescue her. Divya comes at the window, she noticed all are standing below for her.
Shekhar asks Divya to jump from the window and they will rescue her. She does exactly the same, Rakshit and Drishti helps her to get down from the house. All of them visit the old house of Divya and Drishti where both the sisters are remembering their memories of childhood and also saying the same to their husbands. Rakshit and Shekhar are also seeing the house and are listening to their stories of memories.

Pishachini and Lal Chakor think Divya and Drishti must have left the address for me to reach there but they don't know that he is dead and now we will go there to to chase them.
Divya Drishti noticed that suddenly the atmosphere outside their house change drastically and somehow, they expected the same as well. As they go out of the house, they find out that Pishachini and Lal Chakor are arriving there. All of them goes vanished and they started to attack both of them from an invisible state. Rakshit trapped from all sides and is about to attack her when Lal Chakor unveiled her face,
to everybody's shock it turns out to be Mahima. Rakshit is shaken with the regulations while Drishti got to know everything by keeping her hand on the head of Mahima. She realized it is Mahima who did all these from the very beginning.
Mahima left from their living pishachini in their trapped while Rakshit got completely broken with the reality of his mother. Drishti consoles Rakshit while Divya and Shekhar are keeping an eye on Pishachini.
Precap – Mahima comes to give a message to Rakshit and gives him an opportunity to get back the lives of dead persons.