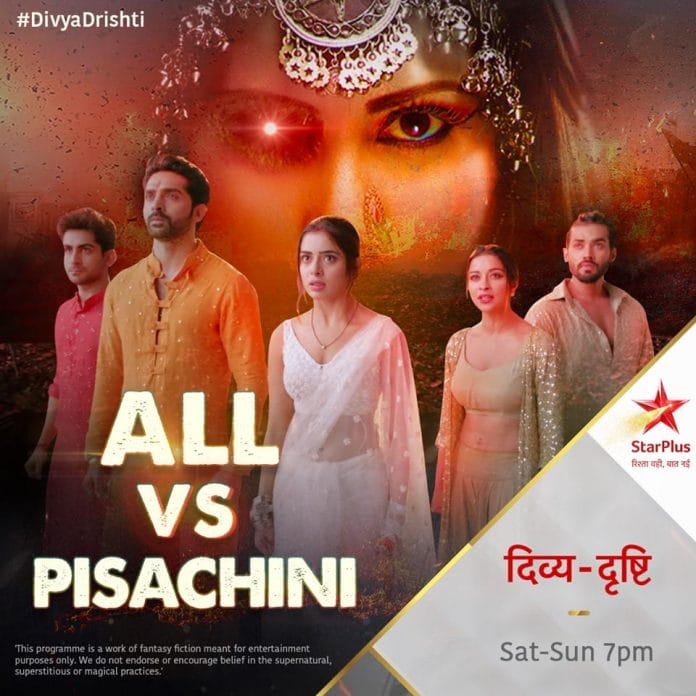 The episode begins with Patali is torturing Chetan in front of the family members while Pishachini restricted the other members to lend any help for Chetan. Divya Drishti who is out shopping suddenly feels something unusual within them and they decided to come back home to check. Mahima is leading to Patali to leave her husband, Patali drops him from now very high distance which resulted in some major injury. Divya Drishti also enters the house at the same time and the noticed Patali is torturing Chetan and try to stop her when Pishachini takes Patali from there. Divya Drishti calls for a doctor and everyone in the family gets Spanish to see the state of Chetan. Rakshit comes in the room of Chetan and Mahima and he is shocked to see his state and wonders how all this happened. he feels a strange kind of pain inside him and wonders why he is feeling like that for Pishachini's father. He is trying to be with Chetan and wonders what happened to him suddenly? He goes in a corner and thinks if he can help in any manner. Suddenly he noticed his finger is glittering and he wonders if he can spell magic as well? He prays to god for the well being of Chetan when he hears they are saying that he is getting better.
Divya and Drishti are trying to figure out how to defeat Patali and for this, they confront the mysterious star who says to them that only the threesome of power can destroy the spell of Patali. They concluded the other power of the source to be Romi. Chetan warns Rakshit about his real identity and made him remember his motive of life before breathing his last. Rakshit cries and he performs the last rites of Chetan along with Romi whereas Divya and Drishti train family members to walk in a blindfold position so that they can avoid the visual of Patali. On the other hand, Rakshit thinks why did Chetan said that he has to save people? Who has to save? What is the motive of him?
Patali again attacks the family members after Pishachini and Mahima get into a verbal argument. Divya comes in and she stops her with her powers when Pishachini also tries to intervene but Divya is well enough to stop both of them when Patali attacks on Divya with her doll and Drishti stops her. Rakshit on his way back home suddenly gets flashes of him being Anjaan and he puts the ring he got in the bedroom in his finger. The ring shows him everything about his life and his family and wife. He realized what all happened to him and his family and how Pishachini traps them?
He gets angry and decides to set everything right now and teach Pishachini a lesson. Patali made Romi ice and Divya and Drishti freaks out that how come he can become of ice? Drishti asks mysterious stars again and he said the third power is not Romi. Divya and Drishti try to think of ways to bring Romi back from the icing state. Rakshit comes home and Romi gets shocked to see him really different.
Precap – Rakshit looks at Pishachini with a knife in hand.