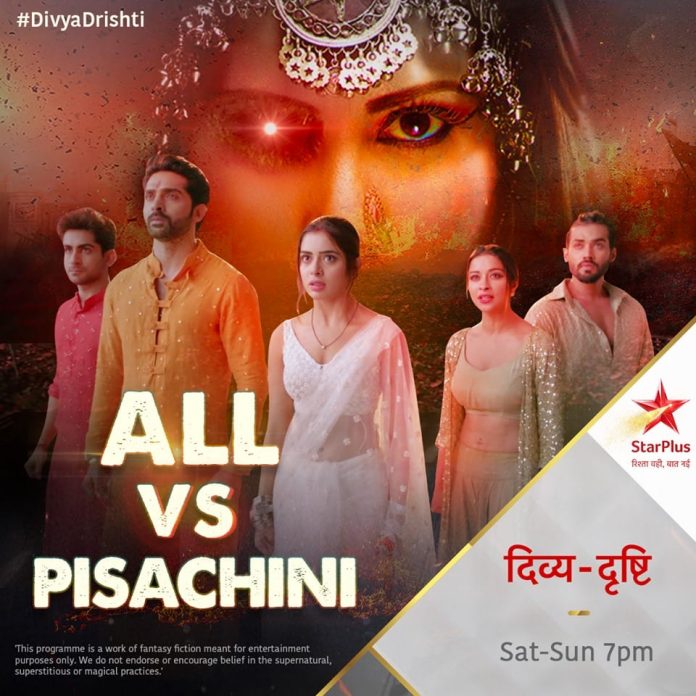 Episode begins with all the four people Divya, Drishti, Rakshit and Shekhar are following the red feather and after a point the red feather transformed into Mahima. She sells to the family and specially Rakshit that she is sorry about the way her real identity came out in front of all. How far she has nothing to do in this because if she doesn't reveal her real identity then Rakshit would have killed her.
This is something she doesn't want for herself because she wants to leave more and to achieve the Kal Vijaya Ratna. She explains to everybody how she did everything from the very beginning for revenge against Vidya and her daughters so she can achieve the Kal Vijay Ratna. She said that I have an offer for all of you, she picked Rakshit among the four and says that you have to come today in the evening near the old bridge with Pishachini and then have to do what I will ask you to do. Rakshit denies at first, when Mahima says I am not asking you to do anything for free. If you do what I am asking you to do then you will get a chance to get back all the people who died from your Shergill family.
Shekhar asks her can I get my mother back? She says everybody will be back if you do what I am saying. Rakshit is trying to think about it when Mahima goes away from there and Drishti and Divya are trying to console their husband at that moment. Rakshit is not able to bring himself to the point where he can believe that the person who raised him up all the years, his mother can be Lal Chakor. He is just not being able to believe this fact and becoming violent in frustration.
Shekhar says to Rakshit that you need to accept it no matter what cause this is the ultimate truth. Divya and Drishti are also discussing the same when Pishachini says it is happening all because of both of you. She says to both the sisters that if you two could die then this game of destruction can be stopped.
All of them come near the Old bridge where Mahima is already waiting for them with the dead bodies of the Shergill family. She says to them that I have this bottle which has a magical water and if you could sprinkle this water on these people then all of them will revive their life.
Shekhar says as per your demand we have brought the chachini with us so now take back your pishachini and give us the life of our family members. Pishachini steps forward and Lal chakor frees from the ropes. Drishti and Divya come forward and ask what exactly you want from us because your eyes are depicting some other story. Mahima says people say correct, a woman is always more intelligent than a man. She says I actually want the Kal Vijay Ratna which is with you people and until you people die, I won't get that.

Shekhar protest against this demand of Lal Chakor along with Rakshit but and drashti decides to jump from the Cliff to save the entire family and both the sisters do it without any delay. Rakshit and Shekhar are crying for their wives but then Shekhar goes to the family members and sprinkle water on them so that they can get alive again.
Rakshit and Shekhar tries to make Drishti and Divya alive as well with the help of the same magical water but it has to be done before the sunrise. On the other hand, Pishachini and Lal Chakor get into a fight with each other over the rights of the jewels and stones that are going to come out after the death of both the sisters. Both Pishachini and Lal Chakor starts to fight with each other. They start to show who is more powerful to have those jewels but ultimately both of them failed to get the Kal Vijay Ratna. Rakshit and Shekhar took away the dead bodies of Drishti and Divya with them. Pishachini and Lal Chakor decided to follow them to get back the jewels.

Precap – The family tries to perform the last rites of both the sisters but the verenation got interrupted badly.