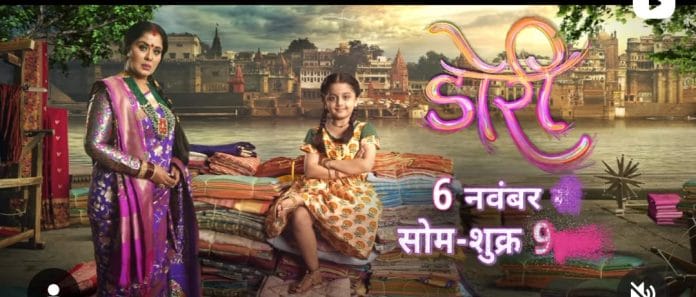 Doree 10th November 2023 Written Update on TellyExpress.com
The episode starts with Doree recalling her moments with Ganga Prasad and crying. She falls asleep outside the temple. Later, Komal says to her husband that Kailash Devi wants a grandson. She is going to give birth to two grandsons. Meanwhile, Mansi visits the temple. The priest asks her to prepare a moorthy for the goddess. She agrees with him. Later, Kailash Devi blessed Komal. She gifts a saree and jewels to her. Komal says that she is going to give birth to two grandsons. She expected an extra saree and jewels from her. Kailash agrees to give 100 saree to her. Kailash Devi asks her if her husband asked her daughter-in-law might to take 1000 pradarshan in the temple before delivery. She is going to give birth to two grandsons. If she is going to do it. Komal denies it. Kailash Devi shows the jewels to her. She asks her to get ready for the pooja. Later, Mansi prays to god that Komal is going to deliver a baby. She asked her to give a baby boy to her. She doesn't want to see her going through the same pain as her. She shouldn't lose her baby like her.
Mansi hears Doree's crying sound. She goes near her. Doree mentions her as mom. She asks her if she is her mom? Mansi feels emotional. Meanwhile, the photographer is taking Komal's pictures. She pretends to give nice poses when seeing her father-in-law. Doree asks God? Didn't she create her? She doesn't care about her. Mansi asks Doree why she is crying? Where are her parents? Doree recalls Nani's words and hugs the moorthy. Mansi asks her how she got hurt? How come she is alone here? She thinks that if her baby was alive then she would look like Doree. Mansi gets a phone call from Anand. He asks her to return home asap. Doree's things fall on her thaali. Mansi notices Doree is missing. She thinks that she is worried. Doree thinks that god knows who her parents are. She thought that Nani had said to her she could reach into her parents if she found the thing. She noticed her things were in Mansi's hand. She follows her behind. Mansi prays for Doree. She asks god to send her back to her home. Kailash Devi throws the saree at Neenu's face. She says that Shukhla won't be impressed with this design.
Kailash Devi says to Anand that she wants to see the design which impresses him within the evening. She is surprised to see her son there. Lakshman and his wife meet Vansh. Vansh is excited about meeting them. He informs him that he won the race. He got a wound because of Doree. Kailash Devi disliked the way Vansh talked with them. Kailash Devi asks Chakram to take Vansh from there. Lakshman and his wife greeted his father. He congratulates them for becoming a grandmother again. His wife says to Kailash Devi that she stitched these clothes for the baby with her hand. Kailash Devi asks Shoba to put this in the dustbin.
Kailash Devi's husband asks her what she is doing. She says that she is going to celebrate the baby shower function for her younger daughter-in-law. She won't allow her to put these clothes into her hand. Her daughter-in-law is going to give birth to two grandsons. But his wife wasn't able to give birth to a baby. Lakshman says that she is showing too much attitude. A granddaughter is going to come to this house. She will teach her a lesson. Doree reaches there.
Episode end
Doree ruins the baby shower function.
Click to read