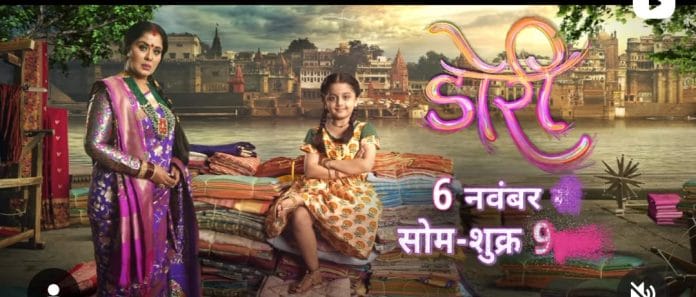 Doree 16th November 2023 Written Update on TellyExpress.com
The episode starts with Vansh saying to Kailash Devi that he is going to throw Doree's dhuppatta out. Kailash Devi stops him. She lies to Shukhla that it's their new design. If he doesn't like it, then she will give it to Mumbai. Shukla says that it's the best design she ever showed him. It's a crores deal. He leaves from there. Kailash Devi asks Anand whose this dhuppatta? Vansh says that it belongs to Doree. Anand recalls that he threw her in the dustbin. Kailash Devi asks him to fund that girl and find out who designed it. He nodded to her. Ganga Prasad prays to god to help him meet Doree. Lakshman says to Kailash Devi that she threw her out of the house but she asked him to bring her to that house again. Meanwhile, Anand learns from the security that cleaners have taken the garbage from there. He thinks that mom won't leave him if something happens to Doree. Later, Mansi shouts for help. Ganga Prasad hears it. He searches for Doree in the garbage.
Ganga Prasad noticed Doree's toe. Mansi feels relieved when he finds Doree. He takes her out of the sack. He shouted for help. He scolds the cleaners for trying to kill his daughter. He tries to wake Doree. He splashes water on her face. He asks her to scold him but opens her eyes. Ganga Prasad prays to god to save his daughter. He can't live without her. Mansi worried about Doree. She prays for Doree. She says that she fasted for him. She did pooja to him. She hadn't asked him anything yet. She prays to god to save her. Doree opens her eyes. Ganga Prasad hugged her emotionally. Mansi leaves there in tears. Meanwhile, Anand learns from the cleaners that Ganga Prasad saved Doree from burning in the fire. Meanwhile, Sudha gives first aid to Vansh. He says to her that it's so hot here. She can fix the AC in her house with Kailash Devi's help. Sudha says that they don't need it. Vansh says that she doesn't get angry when she goes to Raj's room. But she doesn't like it whenever she visits her. Mansi was more worried about Doree than him. He is her son. Sudha says that she is his mom, so he has to call her mom.
Kailash Devi calls Vansh. He rushes out of there. Ganga Prasad asks Doree why leave him? Doree says that she doesn't want to trouble him more. Ganga Prasad says that he needs her. Why should she trouble him? He scolded Nani and broke things too for kicked her out of the house. He says that he brought her slippers but she left him. Doree convinces him. She says to him that Mansi said to her, Ganga Prasad is her Yasodha mom. He asks her to promise him that she won't leave him again. She promised him. He says to her that Nani isn't scolding him because of her. Meanwhile, Kailash Devi prays in the temple. She recalls Shukhla's words. Anand notices Doree with Ganga Prasad. She hides from seeing him. She informs him that he threw her in the dustbin.
Ganga Prasad pushes him away. He asks him to stay away from his daughter. Anand says that she is a child. She misunderstood something. He can't hurt a child. Doree says that he threw her into the dustbin. Ganga Prasad scolds him for torturing his daughter. He asks him if something happened to her. He threatens him to leave. Ganga is silent. When it gets furious, it will destroy everything. Anand says that he is also a father. He can't hurt her. He went to return the dhuppatta to her. Doree says that her father stitched it for her. Anand says that it's a beautiful design. He asks him to work for him.
Episode end
The police arrested Anand.
Click to read