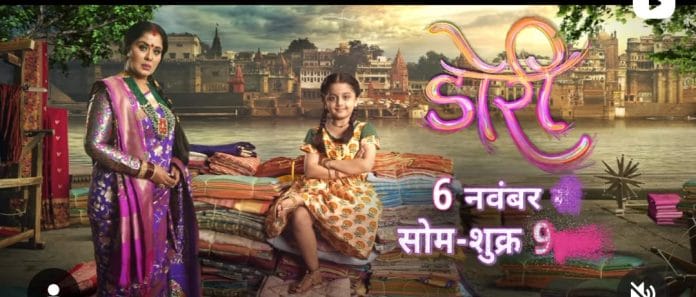 Doree 17th November 2023 Written Update on TellyExpress.com
The episode starts with Anand saying to Ganga Prasad that the dhuppatta design is nice. He can get lots of money if he sells his design to him. It will help him to find a good future for his daughter. Ganga Prasad asks him to leave them. Kailash Devi recalls Shukhla's words and rings the bell in the temple. Meanwhile, Ganga Prasad says to Anand that he is aware why he is here? He can understand rich people's mentality. He won't stoop low like him. He takes Doree from there. Anand gets frustrated and drives the car close to him to scare Ganga Prasad. He says to Doree that someone hit him with a car. So he is scared to go near the car. Doree asks him who hit him? He tells him that he doesn't know it. Later, Kailash Devi finished the pooja. Anand says to her that Ganga Prasad refuses to work for them. He says that he will definitely make him understand it. Kailash Devi slaps him. He said that he was not able to beat a 6-year-old girl and her father. How could he mention he belonged to a Tagore family? Kailash Devi gives time for one day to convince Ganga Prasad. She needs his design. His father asks him to convince him.
Later, Doree cries, seeing her father in pain. She asks him not to do it. Ganga Prasad says that Doree is important to him. He loved her. He tattooed her name in his hand to prove that Doree was his daughter. Doree says that she knew that he loved her. Ganga Prasad says that these people will ask proof from god to prove God as God. Ganga Prasad says that it's important to show everyone that she is his daughter. He asks everyone to believe that Doree is his daughter. She may not be his blood, but she is only his daughter. Everyone accepts that Ganga Prasad is Doree's father. Villagers ask him to do the pooja tomorrow. Doree dances there. Ganga Prasad feels dizzy. She notices it. She is determined to find the person who hit her father with a car. Later, Satho asks Doree why she took him to this place. She says that she has some work here. A constable catches them. He mentioned them as a thief. She says that she isn't a thief. She came here to make a complaint. He says that it's too late. They shouldn't make fun here. Madam will reach here in a few minutes.
Doree asks him who that madam is? The inspector arrives there. The constable asks Doree to leave. She asks him to register her complaint. He asks her to leave. An inspector stops him. She asks Doree what her complaint is? Later, Neenu meets Anand. She says to him that she brought all the talented people here. Anand shows the design to them. He asks them to give the same design to him. They say that it's not their design. Someone highly talented does this design. They are not able to do it. Kailash Devi gets frustrated. Anand demands them to go out. He won't give money to them without design. Meanwhile, the police got there. The inspector says to Anand that he is under arrest. Anand's father asked her what was the matter? She asks him to ask his son. Kailash asks her how she dared to enter her house. She is wearing pants and a shirt. The police say that she doesn't her family members to obey her rule. Doree files a complaint against him. She said that someone hit her father with a car. Kailash Devi glares at Anand. Neenu hears it.
Satho says to Nani that Doree prepared a beautiful rangoli. Doree says to him that Neenu aunty is coming. Let's ask her if this looks beautiful? She says that god will definitely listen to her. Neenu says that he won't listen to her. She ruined her Rangoli. Neenu says that she ruined everyone's life here. They lost their income because of Doree and her father. Ganga Prasad asks her why she is talking like that? She asks him to ask his daughter?
Episode end
Doree puts forth a condition in front of Kailash Devi
Click to read