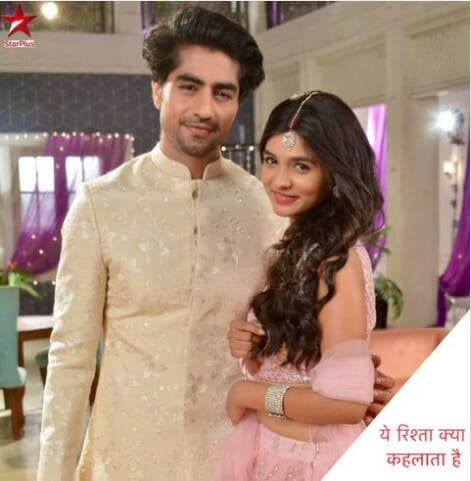 Yeh Rishta Kya kehlata Hai Upcoming Story, Spoilers, Latest Gossip , Future Story, Latest News and Upcoming Twist on TellyExpress.com
Anisha to bring high voltage drama in Yeh Rishta Kya Kehlata Hai
In today's episode, Swarna discloses that they are ready for Anisha and Kairav's alliance. She asks Akshara to gift bangles to Anisha. Swarna and Manish asks Anand and Mahima if they don't have a problem with the alliance. Anand and Mahima give their nod. Akshara gets excited to celebrate Kairav and Anisha's alliance. Abhimanyu asks Kairav and Anisha if they are happy. Anisha says if she wasn't sure then she wouldn't have proposed Kairav. Kairav says his parent's love life was full of ups and down and no relationship is perfect but one makes the relationship perfect.
Abhimanyu asks Kairav and Anisha to think again. Akshara gets excited to perform the ritual. She asks for Suhasini. Swarna tells that Suhasini is not well. She says they will bring Suhasini for other rituals. Abhimanyu decide to check upon Suhasini. He visits Suhasini. Suhasini and Abhimanyu share a talk. Suhasini disclose to Abhimanyu that she is not sure about Anisha. Abhimanyu tries to convince Suhasini to give her nod for Kairav and Anisha's alliance. Anisha and Kairav share a talk. Kairav asks Anisha not to repeat the history else his family will not be able to bear the pain next time. Anisha assures Kairav.
In the upcoming episode, Harsh will inform Abhimanyu that Kunal will visit them soon. Abhimanyu will hug Harsh out of excitement. Elsewhere, Goenkas will prepare for Kairva and Anisha's pre wedding rituals. Akshara and Abhimanyu will romance each other amid the ritual. Anisha will try to distance herself from someone. Akshara will spot Anisha talking with a stranger. Will Akshara be able to learn Anisha's truth? Keep watching the show for more drama.
Stay tuned with us for more TV serial news and updates