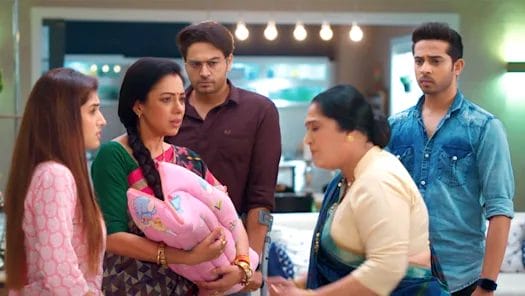 Anupamaa Spoilers, Upcoming Story, Latest Gossip , Future Story, Latest News and Upcoming Twist on TellyExpress.com
Unexpected twist in Rajan Shahi's Anupama. Show might undergo for short leap in the upcoming days.
In today's episode, . Kavya says Leela only knows to complaint. She says she love Shahs but the family never accepted her. Kavya vents out at Leela. She says Leela only care for Vanraj, Paritosh and Pakhi. Kavya says Kinjal is adjusting so much still Leela don't give her deserved respect. Leela asks Kavya what favour she has done to Shahs. Kavya says Anuj did the favour still she is accusing him.
Kavya calls Shahs selfish. She says Leela, Vanraj, Paritosh and Pakhi formed a group to trouble others. Kavya says Anuj is right even if Anupama will give her life, Leela will have a problem. Vanraj asks Kavya to stop. Kavya vent out and says Shahs never include daughter-in laws in the family. Kinjal side Kavya. She says Leela, Vanraj, Paritosh and Pakhi are mean. Paritosh says none asked Anuj to do any favour. Anupama asks Paritosh to speak less. Anuj asks Shahs instead of fighting they should focus on Hasmuk.
Hasmuk returns back. He refuses to enter Kapadia house. He regrets returning back home. Leela says she will pray to God as Hasmuk returned. Hasmuk says he heard the fight and is shameful because of Shahs. Anuj regret leaving Hasmuk on the road.
Hasmuk says Anuj went through much because of him. Leela says she didn't do anything. Hasmuk asks Leela to stop lying. He gets angry on Leela. Hasmuk asks Anupama to change as it is high time.
In the upcoming episode, Anuj will ask Anupama to bring a change in herself. Kavya will make a shocking decision. Elsewhere, Partiosh and Kinjal will separate again. Keep watching the show for more interesting twist.