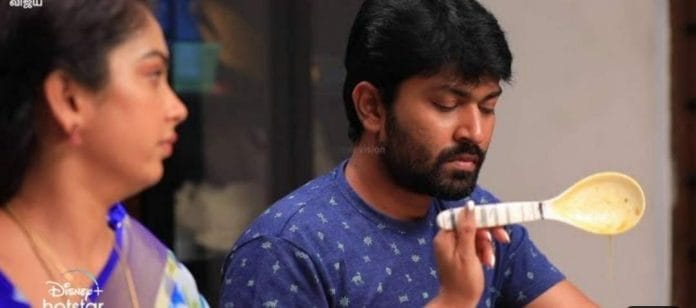 Eeramana Rojave 2 Upcoming Story, Spoilers, Latest Gossip, Future Story, Latest News and Upcoming Twist, on TellyExpress.com
Eeramana Rojave 2 is famous Vijay's show. Kavya and Jeeva's love story takes a hit when destiny forces them to marry each other's elder siblings. Now series focuses on Parvathy's plan backfired
In the previous episode we saw; Kavya cried thinking about Parvathy's words. Parthiban consoled Kavya. She said to him it's hard for her to forget the recent incidents. Parthiban requested Kavya to return the watch to him. Kavya mocked at him for asking it after returned it to her.
Parthiban pleaded with her to return the watch. Kavya returned the watch to him. Later, Priya and Jeeva pulled each other leg. Parvathy noticed Kavya and Parthiban's closeness. She decided to separate them.
Later, Parvathy tried to give works to Kavya not to let her sit beside Parthiban to take dinner. Kavya understand her intention and give a fitting reply to her. Parvathy got disappointed see her attitude
In the upcoming episode viewers will see; Kavya will notice Parvathy coughing. She will advise her to stop thinking about other while eating. Arunachalam will support Parvathy there. Kavya will give a towel to her before she ask that to Kavya. Parvathy will leave from there.
Jeeva will ask Priya to serve the food to him. Priya will understand that he is taking advantage of her. She will ask him to stop eating and walk in terrace. JK will gift a photo frame to Ramya.
Aishwarya will dislike it and comment on their jodi. Meanwhile, Durai family will visit Arunachalm house and invite them up celebrate Thala Diwali in their home.
What will happen next? Will Kavya leave the house? When will Parthiban learn the truth?
Upcoming episode will answer to our all questions stay tune with our space for more updates