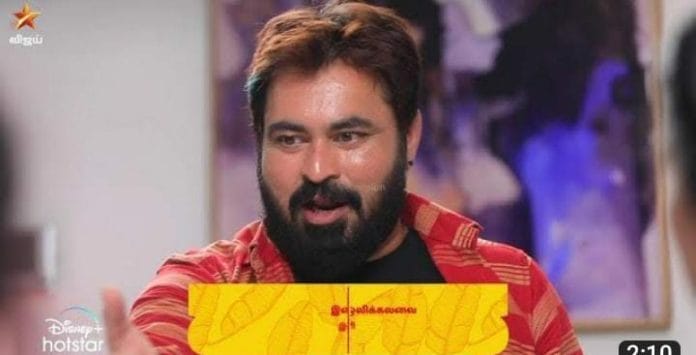 Eeramana Rojave 2 Upcoming Story, Spoilers, Latest Gossip, Future Story, Latest News and Upcoming Twist, on TellyExpress.com
Eeramana Rojave 2 is famous Vijay's show. Kavya and Jeeva's love story takes a hit when destiny forces them to marry each other's elder siblings. Now series focuses on JK will challenge Jeeva to prove his innocence
In the previous episode we saw; JK asked Devi to believe him. Aishu created a scene there to believe her. Devi supported Aishu going against JK. Arunachalam demanded JK to take responsibility for this incident. JK complained to them that Aishu proposed him but he rejected her love. That's why she framed him like this.
Jeeva showed his anger on him. Arunachalam demanded JK to marry Aishu. Later, JK tried to explain his situation to Devi. She gave three days time to him to prove his innocence. Jeeva demanded JK to give his passport to him. JK challenged him to don't leave him if he proves his innocence
In the upcoming episode viewers will see; JK will worry about the current situation. Arunachalam will ask Aishu to don't loose her hope. He will arrange her marriages with JK. Parthiban and Kavya will console her. She will ask Parthiban to don't leave JK for his mistake. Kavya will confront JK for his mistake.
JK will tell her that he isn't fault here she framed him. He will prove it to everyone asap. Devi will come there and mock at Kavya. She will insult her for loved someone before marriage. She will challenge her to reveal her boyfriend identity to everyone asap. Parvathy will hear it and demand her to leave Parthiban
What will happen next? Will Kavya leave the house? When will Parthiban learn the truth?
Upcoming episode will answer to our all questions stay tune with our space for more updates