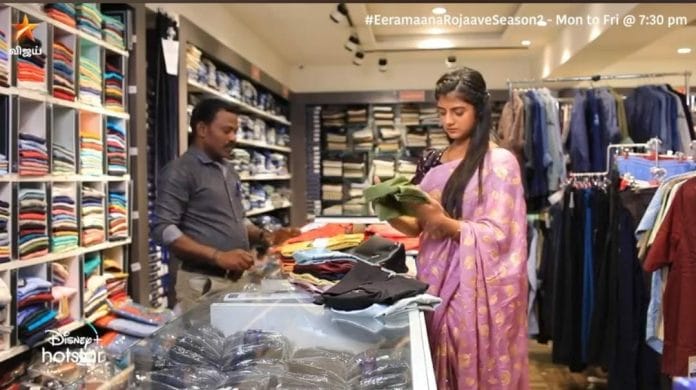 Eeramana Rojave Upcoming Story, Spoilers, Latest Gossip, Future Story, Latest News and Upcoming Twist, on TellyExpress.com
Eeramana Rojave 2 is famous Vijay's show. Kavya and Jeeva's love story takes a hit when destiny forces them to marry each other's elder siblings. Now series focuses on Kavya to gift Parthiban
In the previous episode we saw; Devi decided to participate in the board election. JK shared to Devi that Durai was also participating in this election against her. He assured her that he won't get any support from other board members reasoning he collected everyone list.
He will manage to make them give their votes to Devi. She appreciated his planning. Later, Durai met Arunachalm and informed him about his election. He assured to support him.
Later, Kavya missed Parthiban and hallucinating him around her. She realised that she fell in love with him. She bought a shirt for him. Meanwhile, Devi informed to Arunachalm about her election. He said to her that he promised to support Durai. Devi challenged him to win against Durai.
In the upcoming episode viewers will see: Priya will buy a shirt for Jeeva. Maha will get happy to see her change. Kavya will blaberedd to her that she brought wrong size to him.
Priya will think that she doesn't even know Jeeva's size. Parthiban will give advertisement in the newspaper about their 100th day of marriage. Kavya will lashes out at him in angry.
What will happen next?
Will Kavya leave the house?
When will Parthiban learn the truth?
Upcoming episode will answer to our all questions stay tune with our space for more updates