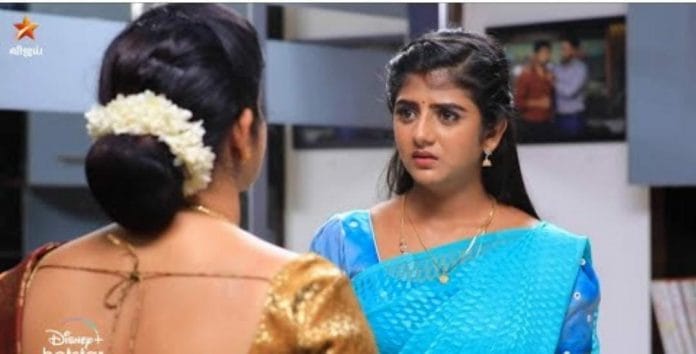 Eeramana Rojave Upcoming Story, Spoilers, Latest Gossip, Future Story, Latest News and Upcoming Twist, on TellyExpress.com
Vijay tv fame" Eeramana Rojave" launched it's season2 with different plot. This show now concentrating on Priya will be in trouble!
In the previous episode we saw; Narine revealed to Priya that he kidnapped Mallika if she don't come alone then he will kill her. Priya nod with him. Jeeva came there and enquired her why did she looking dull? She decided to hide this matter from him thinking Mallika life will be in danger. Priya lied to him as nothing.
Later Kavya took dinner. Parthiban complained to her she didn't called him to take dinner at least for humanity. She complained to him if he hungry he can eat food why would she call him. Both were arguing like kid. He asked her to cook for him but she denied. She demanded him to cook for her. He assured to her.
Later Parvathy confronted Kavya. She accepted that she loved someone. She asked Kavya to stay away from Parthiban. She asked her to irritate him then he will forget her.
In the upcoming episode viewers will see; Parvathy will again ask Kavya to stay away from Parthiban. Kavya will ignore him for Parvathy's word. Later Parvathy will ask Parthiban to stay away from Kavya. A fire accident will take place in Kavya's institution. Kavya will get stuck in it.
What will happen next? Will Kavya divorce Parthi? When will Jeeva confess the truth to Kavya?
Upcoming episode will answer to our all questions stay tune with our space for more updates