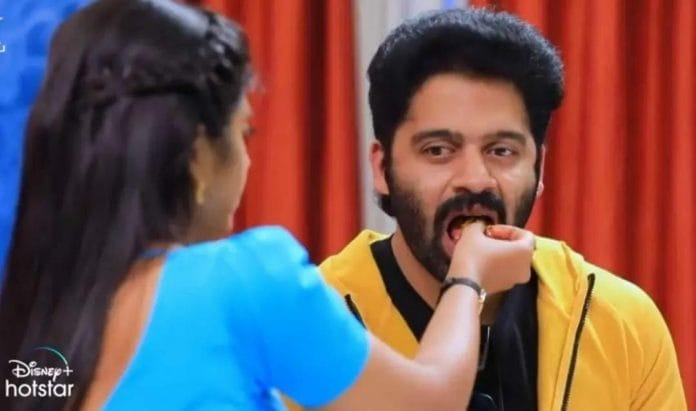 Eeramana Rojave Upcoming Story, Spoilers, Latest Gossip, Future Story, Latest News and Upcoming Twist, on TellyExpress.com
Eeramana Rojave 2 is famous Vijay's show. Kavya and Jeeva's love story takes a hit when destiny forces them to marry each other's elder siblings. Now series focuses on Parthiban climbs the wall secretly to meet Kavya
In the previous episode we saw; Parthiban disappointed with Parvathy's decision and shared his grief to Jeeva. He added that who will celebrate Aadi maasam in these days? He said to Jeeva that he requested mom to don't send Kavya from here but she didn't heed to his plea.
Jeeva said to him she will be back asap. Parthiban was desperate to meet Kavya. Jeeva said to him it's impossible in this middle night. Parthiban advised Jeeva to think about Priya. Doesn't he argued with her. Jeeva said to him she was angry on him.
Parthiban suggested him to meet their wives in their house secretly. Jeeva denied it. Parthiban shared to him that he was missing Kavya a lot. He wanted to meet her. Jeeva got surprised to see his love for Kavya. Later, Parthiban climbed the wall secretly to meet Kavya
In the upcoming episode viewers will see; Parthiban will ask Kavya to cook something for him. Later, Parvathy will learn from Jeeva that Parthiban isn't in his room but went out.
She will inquire Parthiban whereabouts? He will tell her that his friend cooking dosa for him. Parvathy will call Kavya to know about Parthiban. She will blabbered the truth to Parvathy.
What will happen next? Will Kavya leave the house? When will Parthiban learn the truth?
Upcoming episode will answer to our all questions stay tune with our space for more updates.