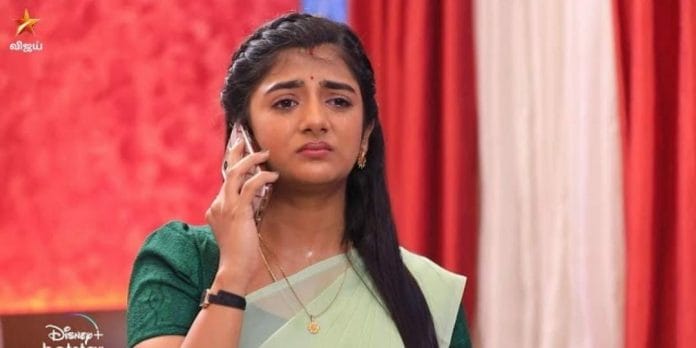 Eeramana Rojave Upcoming Story, Spoilers, Latest Gossip, Future Story, Latest News and Upcoming Twist, on TellyExpress.com
Eeramana Rojave 2 is famous Vijay's show. Kavya and Jeeva's love story takes a hit when destiny forces them to marry each other's elder siblings. Now series focuses on Kavya's emotional break down
In the previous episode we saw; Kavya demanded Parthiban to meet her in the temple. Parthiban dreamt like Kavya appreciating his suprise idea. Later, Kavya reached to the temple and pretended to be scolding him for gave advertisement in the newspaper.
Parthiban said to her that he gave advertisement for his happiness. Kavya gave the shirt to him. She lied to him that she brought a wrong size for her dad. It will suit to him. Parthiban caught her Red-handed that she brought it for Parthiban. Kavya refused to accept it. Parthiban accepted her gift and left from thete. Parthiban wore the shirt and admired himself.
In the upcoming episode viewers will see; Parthiban will inform Parvathy and Jeeva that Kavya gifted this shirt to him. Parvathy will get angry hearing it. She will fear that Kavya will accept Parthiban and live with him.
Later, Swetha will inform Parthiban that Ramya ruined Kavya's painting. Parthiban will confront Ramya for torturing him. He will warn her to stay away from him. Ramya will assure him to don't disturb him again. Meanwhile, Parvathy will demand Kavya to give divorce to Parthiban.
What will happen next? Will Kavya leave the house? When will Parthiban learn the truth?
Upcoming episode will answer to our all questions stay tune with our space for more updates