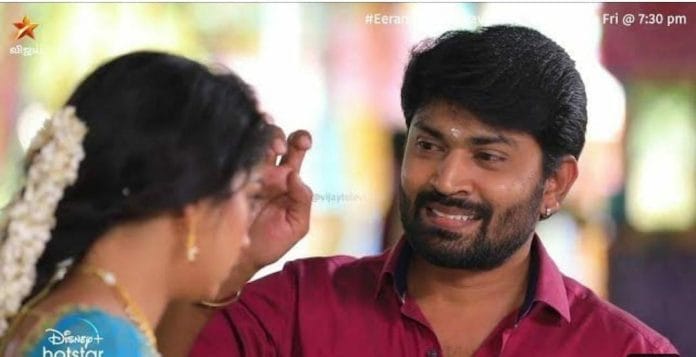 Eeramana Rojave Upcoming Story, Spoilers, Latest Gossip, Future Story, Latest News and Upcoming Twist, on TellyExpress.com
Eeramana Rojave 2 is famous Vijay's show. Kavya and Jeeva's love story takes a hit when destiny forces them to marry each other's elder siblings. Now series focuses on Parvathy to plots against Kavya
In the previous episode we saw; Durai family visited the temple. They gave the gifts to the couple. Arunachalm and Parvathy got happy to see his family there. Jeeva tried to talk with Priya but she ignored him. Parthiban praised Kavya's look and thanked her for wearing the sarie which he gifted for her.
Durai asked Arunachalm to get ready for his 60th wedding anniversary. He denied it. But everyone helped the couple to get ready. They finished the rituals together. They prayed in temple and blessed the youngsters. Parthiban filled Vermillion in Kavya's hairline. Jeeva asked Priya to pretended to be his wife at least for their family members.
In the upcoming episode viewers will see; Kavya will notice Arunachalam friend attend the function. She will get nervous seeing him there.
Later, She will hide from his site. Parthiban will ask her what's she doing here. She will excuses him. Arunachalm will get disappointed when Kavya is no where to show introduce to his friend.
Kavya will remember the way she met his friend in an unexpected situation in the hotel. Kavya will share it to Parvathy. She will decide to leave from there informing Parvathy not to create any scene.
What will happen next? Will Kavya leave the house? When will Parthiban learn the truth?
Upcoming episode will answer to our all questions stay tune with our space for more updates