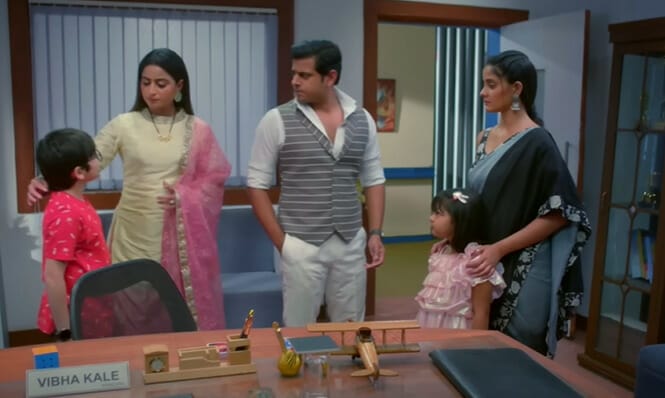 Ghum Hai Kisi key Pyaar Meiin features Neil Bhatt, Ayesha Singh and Aishwarya Bhatt in the lead.
Show Ghum Hai Kisi key Pyaar Meiin is disappointing fans since Virat married Pakhi. Post leap drama is high and in the upcoming episode it will be spiced more when Sai, Pakhi and Virat will fight to decide upon the future of their kids Savi and Vinayak.
According to the new promo of the show Sai will question Virat about getting Savi's admission done without her consult. Virat will raise question on Savi's education and will be shocked later seeing his daughter smartness. Savi will confess that Sai help her in study. Virat will have a change of heart and will decide to get Vinayak's admission done in Savi's school. Pakhi will object Virat's decision. How the equation changes again between Virat, Sai and Pakhi over their kids' education is the upcoming track of the show.
Like every track, the upcoming didn't attract the loyal viewers of the show. They are disappointed with Virat as he keeps flipping. Virat recently learned that Savi is his daughter. He wants to shower love to her daughter. Pakhi's interruption between Virat and Sai irks the show fans the most. Still Ghum Hai Kisi key Pyaar Meiin has a highest 2.7 TRP.
Show is close to break the record of Rajan Shahi's Anupama. If the seat edge drama continues in Ghum Hai Kisikey Pyaar Meiin than it will surely beat Anupama very soon. Despite the disappointment fans of the show can't ignore the drama revolving around Sai, Virat and Pakhi. This trio managed to grab the eyeballs. The upcoming is expected to bring high voltage drama home. See below fans reaction on the new promo of the show
"Legal wife is sidelined and Bhabhi gained importance. Shame on MAKERS. They have fallen beyond redemption. IPS officer is a BIGAMIST. I don't know what message they are giving to youngsters."
"When Virat was with Sai he wanted pakhi with him now he is with phaki but runs behind Sai what a character makers wah wah wah i can't stop laughing watching this Virat has sandwich"
"Ek kaaam Karo….bandh karo ye serial dhekne ki man nahi hain….kya track hai ye….sab serial me esa track hoga lekin iss tarah ghattiya track kabhi nahi deka"
Check out the new promo here:
Share your views on the upcoming track in Ghum Hai KisiKey Pyaar Meiin
Follow us for TV serial latest updates