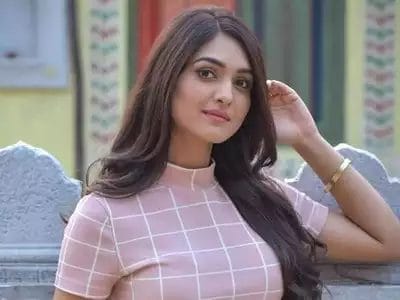 By Anil Merani| Kritika Yadav, who has done good work down south, enjoys playing Pratiksha Parikh in the new Color show Pyar Ke Saat Vachan Dharampatnii.
"My Gujarati character, apart from being a regular family-loving gal, is also turning out to be a strong woman facing challenges from Ravi(Fahmaan Khan), who has turned negative. My onscreen fiancé Malhar (Akash Jagga), is also not supporting me."
"Kritika is full of praise for Fahmaan Khan;" Being experienced, he helps me with a lot of onset stuff. Keerti ( Gurpreet Bedi), who died in the show, is also very friendly. "
Dharampatnii is Kritika's second TV show. Before this, she was part of Aapki Nazron Ne Samjha for three to four months. "But I had to opt out due to covid."
Apart from TV, Kritika is also doing three south films and the web.
"My first film on the other side of Vindhya will release on Republic Day this year. The second will hit the theatres in a few months, while the last's shoot is yet to start." added she
Kritika will also feature in Anil Kapoor's lead Night Manager on Amazon Prime.
Here she accepts that tv shooting is a different ball game compared to films." The tube demands much time and effort. Down south, not knowing the language we would use, prompting and dubbing would permanently save the day. But here, being the lead, the pressure is enormous. At first, I would take it easy with some scenes, but then the director told me he needed 100%effort in all takes."
"To make matters worse, during my first shooting week, Fahmaan was not there, and I had to mouth long dialogues; gradually, I am now learning the ropes."
She would be OK returning to the south, "Where directors make films in their style, not aping what works. I might go back once I quit or the show ends."