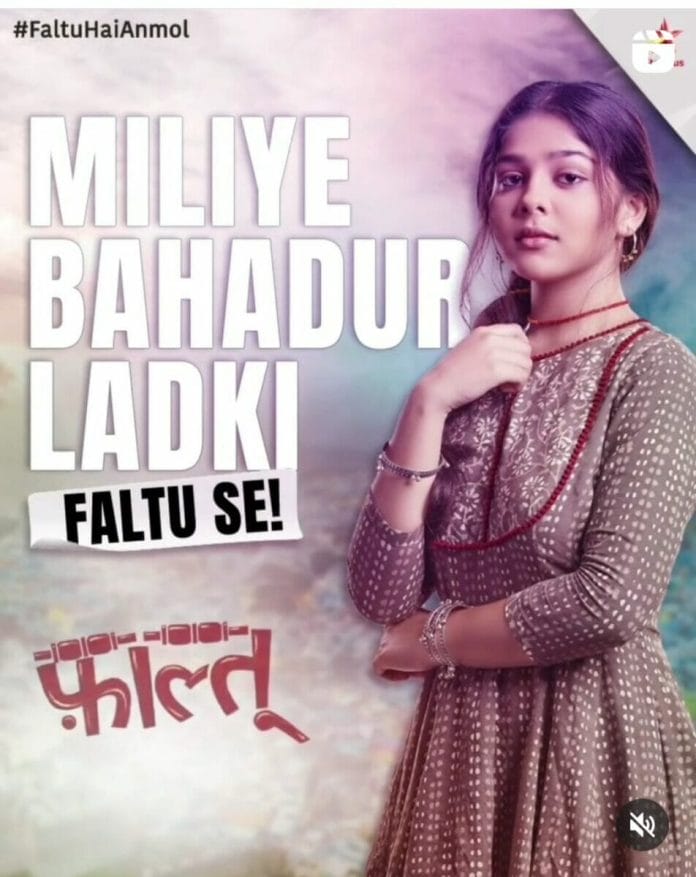 Faltu 14th November 2022 Written Update on TellyExpress.com
Episode starts with Faltu going inside gents washroom to tug her hair inside. At that time Ayaan gets a call and he leaves to attend it, while Pappi comes there and determines to find about Anmol's truth. He was about to go inside the washroom, when Faltu notices someone's presence and keeps her hair in front of her face. She acts like a ghost and starts shouting at Pappi to leave. She rebukes him for getting inside girl's washroom and throws water on him, while he rushes out without seeing her face. He then realises that it was a gents washroom and and again goes inside it.
Here, Faltu disguises herself into Anmol instantly and acts to be using the washroom. At that time Pappi comes there and ask him to turn around. He determines to confront the latter but Anmol denies to follow his instructions. Pappi was about to forcefully turn Anmol towards him when Ayaan comes there and defends the latter. He glares at Pappi and ask him to stay away from Anmol.
Ayaan gets furious at Pappi and warns the latter, while he proclaims to see a girl inside the washroom. He questions Anmol about it while the latter makes up a story and states that how can a girl come there? Pappi proclaims that he is sure, he has seen a girl, while Anmol replies that it must be a ghost.
Elsewhere, Anmol tells a fake horror story and says that now a days people are seeing a spirit of a women, who then tries to kill the person who sees her. Pappi gets afraid and falls into Faltu's trap. He then runs away from there while Ayaan and Faltu laughs at him. Meanwhile, Ayaan gives a surprise gift to Faltu and she gets elated after receiving it.
Ayaan ask Faltu to practice her form as it isn't good while she gets stressed and sits on the terrace to think about her life. At that time Ayaan also goes there and sits besides her. He states that he have faced the situation which Faltu is going through. He motivates her and states that there are only few people who was able to shine in this world.
Ahead, Faltu gets inspire from Ayaan and proclaims to fulfill her dreams. She assures that she will surely shine while Ayaan smiles and encourages her. Whereas, he looks at her and states that she has again ignited the passion of cricket inside him. She stares at him and questions that what she has done? To which he smiles and replies that she isn't even aware of it.
Faltu insists Ayaan to attend her match stating that his presence gives her confidence, to which he assures her that he will come to the match. She gets elated while he also becomes happy. He goes back to his room, while Suhanna gives him the phone. Janardan talks to him and notify about the date of his engagement with Tanisha. He ask Ayaan to come back at that moment while the latter gets shocked and tries to delay it but his mother talks to him and reminds about Tanisha's expectations.
Further, Ayaan agrees to go back to his house and leaves from there with his sister. He recalls his promise to Faltu, while Suhanna shows her sympathy towards the latter for her hard life. Ayaan says that he have done something for the latter and they will find about it at the right time. Meanwhile, Faltu's marriage preparation gets started and they also finds about Ayaan's departute. Whereas, Faltu gets a letter from Ayaan and becomes emotional while Pratap consoles her. She determines to win the match for Ayaan's help and trust upon her.
Precap:- Jamana panicks upon not finding Faltu and notify everyone about it. Meanwhile, Pappi orders his mens to search everywhere in the Rajasthan to find Faltu. He proclaims that he needs her at any cost and then reaches the cricket match ground. Whereas, Faltu stands there being disguised as Anmol to play cricket, while Pappi confronts her.
Click to read