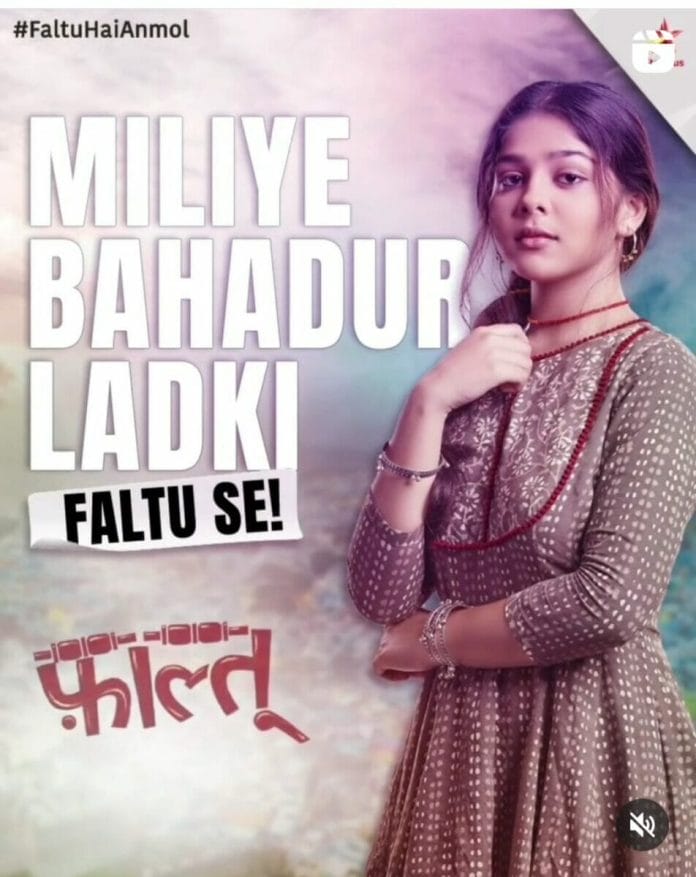 Faltu 21st December 2022 Written Update on TellyExpress.com
In today's episode with the self monologue of faltu. She wishes she have to play well and remembers of Kanika aunty. She again thinks of problem of accommodation. She asks a random guy about the direction of railway station. He describes her the way of Andheri station. She walks away to the following door. Here, Rijula blesses Ayan and for her future life. Harsh hugs Ayan in ecstasy. In the midst of way, Faltu listens some inspirational talking about the obstacles and obstruction of life but she can't decide where to live, where to stay for the night. She feels more confused seeing the crowds in the street.
Kanika offers the new couple that she has arranged the best photographer to shoot the marriage. Tanisha says today she wants to complete the photograph session within a day. Rijula asks the guys to fulfill the responsibility with the perfection. Here, Faltu is eradicated by a lady from the place where she decided to spend the night. But suddenly Faltu saves the things of the lady which was being stolen. Being grateful, she agrees to help Faltu. She expresses her pathetic life.
Here, Ratan singh murmurs the grudges about his opponent. Suddenly his phone rings and Sid calls him. Siddharth tells emphatically something through his call and asks to follow his words. Ratan is informed every details of Faltu, he is notified that Faltu will attend the trial match in Women's Cricket Academy. Sid, suggests Ratan to abduct the girl and makes it viral.
Here, the anonymous lady of the street, feels some kind affection with Faltu. She continues asking about her family and all. She adjoins the struggle of her life. In spite of having her desease, she has to work to earn her bread. Seeing her anguished, Faktu promises she will aid her then Faltu starts to announce like a hawker selling her eggs.
Ayan repents about his own behaviour to Faltu, failed to regard the expectation of Faltu. To think the distressed face of Faltu, he feels disturbed in his room and throws away his mobile. After coming of Rijula, Ayan tries to hide his emotion. But Rijula says logically, that Ayan has some affection for Faltu. When Ayan tries to conceal the true fact of his heart, Rijula fathoms his indecisiveness.
Suddenly Rijula directly asks whether he is in love with Faltu. Ayan gets disturbed and puzzled. He can't say the true. Rijula confronts him and asks him to analyse his feelings. She also defines this relationship
Aayan again remorses of the past attitude of himself towards Faltu, how firmly he promises her father, that he will protect her girl. He blames himself for the negligence. When Rijula asks Ayan not to blame himself, and also suggests him to follow his ideas. Rijula again emphatically questions him to decide between his heart and head. Again Ayan becomes more bewildered.
Rijula repeatedly asks Ayan to close his eyes and to rethink his decision. Suddenly, when Ayan closes his eyes to get the truth, Ayan sees that Faltu is standing behind as bride. He becomes more perplexed. Suddenly, Tanisha, Kanika and Janardan arrive to encourage him for the marriage. The father of Ayan declares that Tanisha has already transferred all the properties with the name of Ayan. He also suggests Ayan to manage the family business. Ayan hesitates taking the responsibility of property and business. But he is kind of enforced to take the papers gracefully. They leave but the doubt of Tanisha regarding the Faltu doesn't erased.
Episode ends.
Precap: Ayan reminds Rijula his promises towards his father that he will look after the business of the family. Ratan finally finds out Faltu in the street.
Click to read