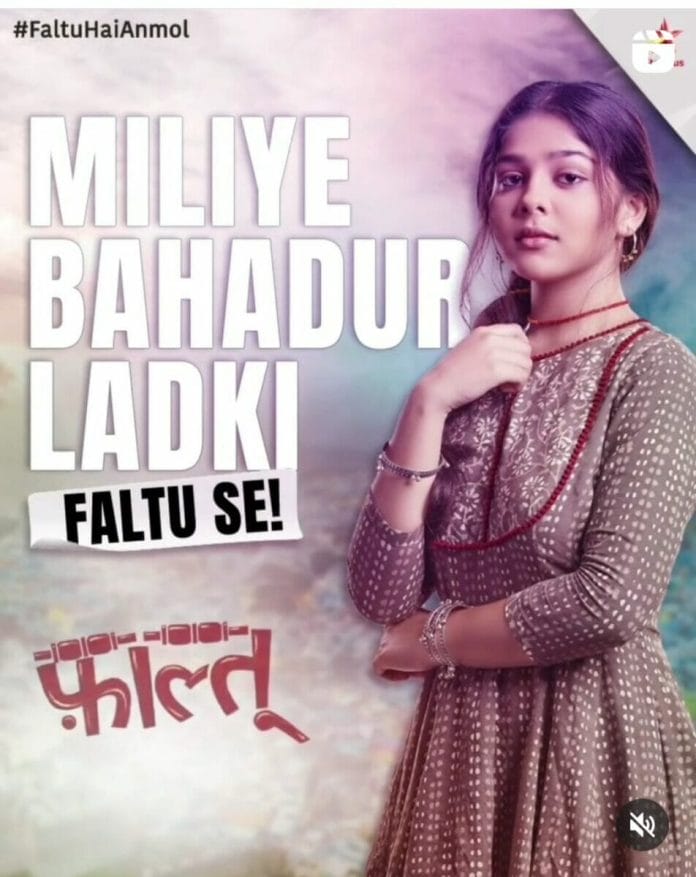 Faltu 4th November 2022 Written Update on TellyExpress.com
Episode starts with Faltu crying sitting on the sand. She recalls her efforts to help her father but gets disheartened after remembering the consequences. She then recalls the warning of the doctor. She gets flashes of meeting with the doctor due to her blurry vision, while he warns her about losing her eyesight permanently. He advice her to tell about it to her family so that they can get her treated, but she denies stating that there is already a lot of problems her father is facing and she doesn't want to burden him more. She decides to hide the truth from everyone and determines to help her father.
Here, Faltu ask the doctor about how long she can see, to which he gives her a time limit of 3 months. Faltu keeps sobbing on her destiny while Su and Ayaan tries to find Ratan guesthouse. They ask the people of Ittarpur but they couldn't able to answer him. Su gets tired and starts complaining while Ayaan makes her understand and states that they have to fulfill their father's wish.
Ayaan and Su keeps moving and reaches a place. She keeps her phone there while a man tries to remove it from there, but Ayaan mistook him to be a thief. He rebukes the latter and snatches the phone from him. He starts scolding him and accuses him to be a thief. Faltu hears their conversation and gets furious. She takes a stand for the man and confronts Ayaan.
Elsewhere, Faltu threatens to harm Ayaan and Su while he tries to stop her. He accepts his mistake and apologises for his fault. He states that it was a misunderstanding while she tells that she knew the man. She misbehaves with them while Ayaan also gets angry and both starts their argument. Su blames Faltu for making her forget the address of the guesthouse while Ayaan unintentionally calls her as Faltu.
Faltu gets offended by Ayaan's words and ask him to take it back. He denies while Su insists Faltu to help them and ask the address about Ratan guesthouse. Faltu smirks and decides to teach a lesson to Ayaan and Su. She gives them wrong address and send them far away from the guesthouse.
Ahead, Faltu laughs telling the story to Pratap. Whereas, Tanisha gets excited for her and Ayaan's marriage. Kanika gets elated seeing her daughter happy. Tanisha complains that Ayaan haven't even called her and complains about him being busy with work, to which Kanika ask her to be proud of it and explains that it matter the most. She also gets excited about her partnership deal with Janardan and talks about it's benifit.
Savita hesitates in front of Janardan but ask him to tell the truth about Ayaan and her to Tanisha and Kanika before marriage, but he denies to do it. He proclaims that Ayaan will always be his son and leaves from there. Whereas, Siddharth sees Tanisha's picture and expresses his love towards her. He proclaims that he can't let her marry his brother Ayaan and determines to get her. Meanwhile, Sumitra comes there and tells him about Janardan's decision to give his position to Ayaan.
Further, Siddharth gets furious and decides to snatch Ayaan's position. He ploys with his mother Sumitra and determines to teach a lesson to Ayaan. Whereas, Ayaan and Su reaches Ratan's guesthouse after a lot of trouble. They complains about Faltu stating that they met a girl who gave them wrong direction. Meanwhile, Faltu gets shocked seeing them. They also becomes stunned hearing their thoughts about a girl. Meanwhile, Faltu comes in front of them and stops them from telling the truth to her family. Whereas, in the morning Faltu gets shocked seeing Ayaan without shirt and screams. She was about to fall but he saves her and she falls into his arms.
Pracap:- Ayaan and Faltu to dash with one another during garba performance. They both gets furious seeing one another. Whereas, Ratan fixes Faltu's marriage with Pappi while her mother states that how can they get Faltu married to a man who is double her age. Pappi gets furious and gives a warning to them. He states that either he will marry Faltu in 10 days Or he wants his money back. He smirks looking at Faltu whe she gets shocked.
Click to read