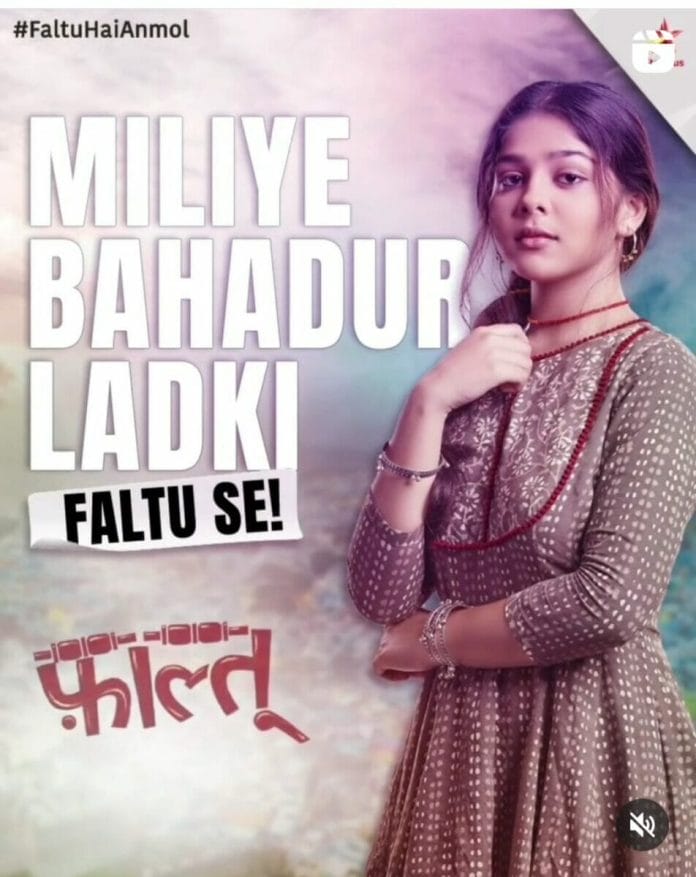 Faltu 6th November 2022 Written Update on TellyExpress.com
Episode starts with Ayaan recording the garba dance of Suhaana while Faltu also gets captured in it. Suhaana comes towards Ayaan and insists him to dance along with them while he agrees in order to mingle with the people. He starts dancing and comes face to face with Faltu. Both looks at one another and continues their dance. Meanwhile, Pappi comes there and Faltu gets confused seeing him going inside her house along with her parents. She decides to follow them while Pappi looks at Faltu smirks. He tells his friend that he will surely marry her.
Here, Kanika makes a request to Janardan and ask him if her priest can see Ayaan and Tanisha's horoscope, so that he can fix their marriage date after checking it. Savita gets shocked hearing it while Janardan controls his expression and agrees to Kanika's request. He says that there isn't any problem and ask Kanika to come with her priest, so that he can check the horoscope as soon as possible.
Janardan's mother takes Savita inside the house and scolds her for being nervous in front of the guests. The latter shows her worry regarding the horoscope of Ayaan and says that why Janardan agreed to Kanika's demand as it can cause problem to them. She states that what if Kanika find about the truth of Ayaan's horoscope while her mother-in-law ask her to think positive.
Elsewhere, Pappi demands to marry Faltu and Ratan talks to Charan and Jamana about it but the latter denies to marry their daughter stating that Pappi is double the age of Faltu. Ratan ignores their decision and tells Pappi that they are ready to accept his proposal. Faltu's parents gets shocked, while at that time Faltu also comes there and gets stunned by their conversation.
Faltu takes a stand against her family and says that she won't marry Pappi. Her aunty scolds her and says that she won't get such proposal in her life whereas Ratan reminds her that Charan dont even have money to marry Faltu with anyone and advice her to accept Pappi's decision. She states that of her father doesn't have money then she won't even marry.
Ahead, Pappi comes forward and ask Charan to return his 1 lakh rupees. He proclaims that if Faltu doesn't agree to marry him then he will put Charan into jail and gives him time limit of 10 days to return the money. Everyone gets shocked while Pappi leaves from there. Faltu gets emotional and sits on the staircase. Whereas, Mittals sees the video posted by Suhaana and Tanisha gets jealous of seeing Ayaan with Faltu.
Tanisha talks to Suhaana asking about Faltu but couldn't able to have a conversation with Ayaan. Meanwhile, Ayaan confronts Faltu but she denies to talk to him. They both starts their bickering while he gets irked by her behavior. She then complains about how people treat her while he feels bad for her. Meanwhile, Faltu sees a dream and decides to take help of cricket to earn money.
Further, Charan decides to sacrifice for her daughter while his wife tries to stop him. Meanwhile, Ayaan talks to Tanisha and she scolds her for not giving time to her. Whereas, Faltu talks to Pratap about the cricket tournament and decides to participate in it. She takes him along with her while he sees Ayaan going in his jeep and asks him for lift. Faltu and Pratap sits inside the jeep while Ayaan ties the seatbelt for Faltu and both gets into an eyelock. Whereas, Pappi sees them and gets furious.
Precap:- Faltu and Pratap runs away from her aunty and Pappi, while the latter notify her that they went inside the mart. Faltu and Pratap goes inside Ayaan's mart while Pappi along with Faltu's aunty follows them. Ayaan states that no one came there and gives them permission to check the mart, while she catches Pratap and scolds him. Meanwhile, Faltu comes there in a disguised look of a boy while everyone keeps staring at her.
Click to read