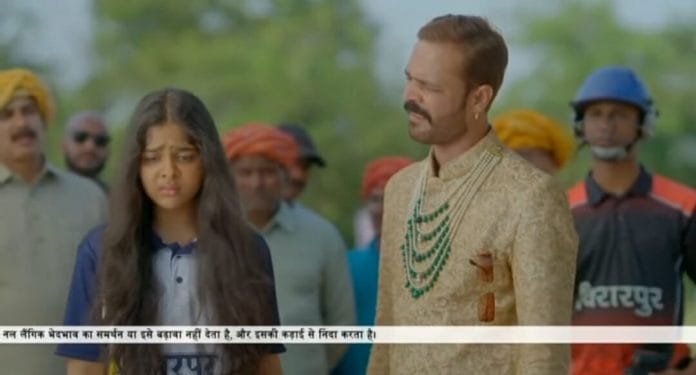 Faltu Spoilers, Upcoming Story, Latest Gossip , Future Story, Latest News and Upcoming Twist on tellyexpress.com

The peculiar twist in the tale of Star Plus newly launched daily soap "Faltu" is enthralling the audiences. Previously, Faltu determined herself to win the cricket match. Whereas, Ayaan appointed an informer to notify him about Faltu's movements.
Meanwhile, Pappi got suspicious about Anmol and confronted the latter during the match. He revealed the disguise and everyone got shocked finding about Faltu's secret. Whereas, Ayaan and Suhanna's flight got delayed.
In the current track, Pappi declares to marry Faltu while the latter denies and tries to run away from there. Her parents shows their support towards her but the goons captured them and stopped Faltu from running away. Pappi gets furious and reminds about his warning.
Here, Pappi says that he will put Charan into jail if Faltu denies to marry him. He brings the police while Pratap tries to help Faltu but the goons pushed him away. His mother gets concerned for him and ask not to interfere in Faltu's matter.
The police takes Pappi's side and goes to arrest Charan. The latter states that he is ready to sacrifice for his daughter and agrees to go to the jail. Whereas, Faltu tries to stop him. He assures that she has done everything to help them and ask to accept the fate.
Ahead, Ratan's wife gets worried about her money and proclaims that if Pappi doesn't marry Faltu then they won't get their money. She taunts Faltu for letting her father suffer and makes the latter feel guilty. Faltu stops the police and agrees to marry Pappi.
Ayaan finds about the matter and ask his informer to give money to Charan. The latter gives the money but Pappi throws it away stating that it is about his reputation now. Ayaan rushes to save Faltu and ask Suhanna to handle the situation at their home. And assures that he will return back before the engagement time.
Later, Ayesha teases Tanisha and ask about her dreams and future planning with Ayaan. Whereas, Faltu cries and shares her problems with her siblings. They tries tk assure her while at that time Ayaan comes there hiding from others. He sneaks inside Faltu's room and geta inside while she falls into his arms.
Now in the upcoming episode, Ayaan will try to motivate Faltu and tells that cricket needs a player like her. He will advice her not to bound herself with household works and ask to fight for her rights. She will reply that even she wants to fight for herself and knows how to teach a lesson to Pappi. She will then continue that she doesn't want her father to suffer because of her while he will assure that nothing will happen to him. At that time Charan will knock Faltu's door while she will get shocked along with Ayaan.
Will Ayaan be able to help Faltu?
Will Charan find about Faltu's passion?
It would be interesting to see what happens next on the show.
Stay tuned with us for more news, Spoilers and written updates of Faltu.