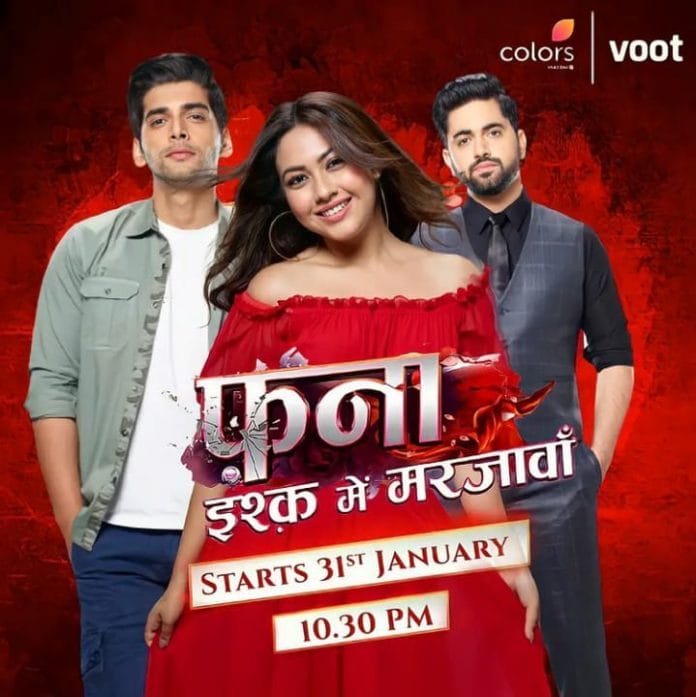 Fanaa Ishq Mein Marjawan 16th May 2022 Written Update on TellyExpress.com
The episode starts with Bulbul saying Meera to make sandwich for her. Meera shouts shut up. Bulbul threatens to leave the house and begins to walk. Meera shouts stop. Bulbul smiles and says to Meera to add less spices ik her sandwich and calls her once she prepared it. She asks if Meera will do it. Meera leaves silently. Dadi warns Bulbul that she's playing with the fire. Bulbul says to Dadi to not worry and adds that she's not scare of fire. She says to Dadi and all to take rest. She takes Dadi to her room.
Meera is struggling to make sandwich. Yug comes to her and asks why she's doing this and asks if Bulbul makes her do it. Meera says that she has to tolerate her for three days and asks to see what she will do with Bulbul after getting the properties. Yug asks what she will do. She says that she will take money and life from Bulbul.
Meera shows Bulbul something on the tab. Bulbul says to Meera to talk to her by standing. Yug shouts. Meera calms him down. Meera gets up. She says to Bulbul that she has to corporate with them for three days that they can change her as Pakhi. She says that she has to behave like Pakhi and asks to see Agastya and Pakhi's videos on the tab.
Bulbul sees the video. Bulbul says that they want her to act as Pakhi and adds that she's good brilliant actor. She says that they are going to get more money than what she's giving. Meera says to mind her own business. Bulbul asks why she should act as Pakhi when family knows she's Bulbul. Meera that she has to act in front of the world. Bulbul agrees and continues to watch the video. Just then Agastya calls out Bulbul. The latter leaves saying that Meera and Yug making her do lot of works.
Bulbul comes to Agastya and asks what happened. Agastya says that he is brave, so he doesn't need to have medicine. He refuses to have medicine. Bulbul convinces Agastya. She says that she will give Agastya the medicine. She thinks that don't know what medicine Meera is giving to Agastya. She changes the medicine.
Agastya says that she should play hide seek if he takes the medicine. Bulbul agrees. Agastya takes the medicine. Meera and Yug watch this. Bulbul says to let start the game. Meera asks who Bulbul is to make command in this house. Bulbul says that she's Pakhi, this house's daughter-in-law. Bulbul makes fun of Meera saying she's scared. Agastya joins her. Meera looks on.
Bulbul says to Yug to start the gane. Yug refuses. Bulbul orders him to do the counting till 100 and tells to the remaining family
to go and hide. Agastya says that all listen to his new friend. He kisses Bulbul on the cheek which surprises Bulbul. Agastya says to all to hide. Bulbul says to Meera to hide. Agastya and Bulbul hide in Bulbul's room behind the bed.
There Yug says to all to come out and says that he doesn't want to play this kids game. He threatens to give food if they don't come out. All arrive there. Here Agastya says that Bulbul is beautiful. Agastya sees the video of himself and Pakhi on the tab. He gets some flashes of his past. He gets flashes of Pakhi getting shot. He shouts Pakhi and says to not kill Pakhi. He says that he won't let anything happen to Pakhi. He runs from there. Bulbul shouts Agastya and goes after him.
Agastya comes to the hall and shouts Pakhi He keeps repeating that he won't let anything happen to Pakhi. Family looks on shocked. Yug tries to take the tap from Agastya. The latter shouts holding Yug's coat that they have killed Pakhi shocking all. Meera arrives there. She makes Agastya away from Yug and takes the laptop from Agastya and sees Pakhi and Agastya video. Agastya faints. Bulbul comes to Agastya and tries to wake him up. She says to Dadi to get water. Dadi obliges. Bulbul sprinkles water on Agastya and says hin to open his eyes.
Agastya opens his eyes and asks if his new friend left. Bulbul says that she's here. Agastya doesn't remember anything. He says that he slept and asks who won the game. Bulbul says that they won, Yug couldn't find them. Agastya gets happy. Meera says to the nurse to take Agastya to her new room.
Agastya says to Bulbul that they will play cricket the next day. Pakhi agrees. The nurse takes Agastya from there. Meera glares at Bulbul. The latter says her to go. Meera silently leaves. Bulbul thinks that Meera doesn't know what she's going to do with her in these three days.
The episode ends.
Click to read