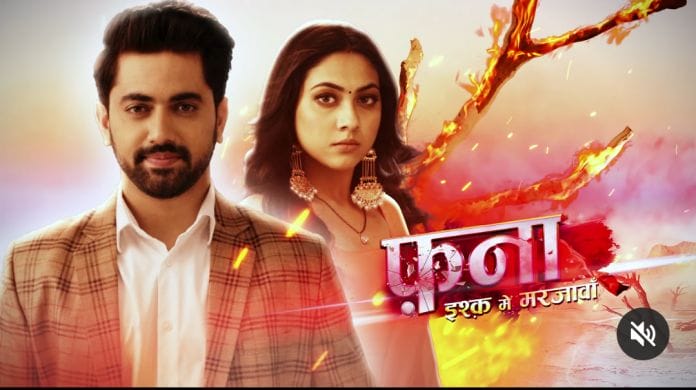 Fanaa Ishq Mein Marjawan 1st June 2022 Written Update on TellyExpress.com
The episode starts with Pakhi coming to meet Agastya secretly. Agastya asks her what happened, why she wants to meet him. Pakhi worries about the CCTV cameras fixed in Agastya's room. Agastya assures her that he hacked it. Pakhi asks what Agastya is scared of the most. Agastya asks why she's asking. Pakhi says that she will tell later and asks her to answer her first. Agastya says that he is scared of losing Pakhi.
The latter says that Meera is scared of Agastya as he is always threat for her, so she tried to kill him in his childhood and now since he is the obstacle between what Meera wants to get. Agastya asks what Pakhi wants to say. Pakhi says that they have to scare Meera to defeat her. She says that she has a plan for that and she needs Agastya, Naveli and Shanaya's help for this.
Naveli gets happy learning Agastya got fine and hugs Pakhi. She agrees to help Pakhi in her plan. Shanya hesitates. Pakhi understands that Shanaya doesn't want to trust Agastya due to what he did with them in the past. Pakhi assures Shanaya that Agastya changed and says that they won't wrong them or let any wrong happen to them. She says to trust at least her.
Shanaya says that she trusts Pakhi. The latter says that she has to go out by making any excuse and meet Mohit. She already explained everything to Mohit and his friends can help them. She says that only Shanaya can do it as Meera doesn't allow her to go out.
Shanaya comes to Yug and requests him to allow her to go out to get groceries to cook for them. Yug agrees. Later Agastya is having panic attacks. Dadi and all get worried on seeing Agastya's condition. Pakhi begs Meera to shift Agastya to the hospital. Pakhi and all get shocked when Agastya stops to move. The doctor checks Agastya and says that he is no more shocking all except Meera who is elated.
Pakhi and family cry for Agastya. Meera says that she saw Pakhi's face first in the morning and she's very lucky for her. Pakhi holds Meera's neck and shouts that she killed Agastya. Meera pushes Pakhi away and says her to stop her melodrama. She asks Yug to prepare for Agastya's last rites.
Pakhi and Dadi cry for Agastya. Meera says to the men to take Agastya's body out. They oblige. Mohit is among them in disguise. He signs Pakhi. A FB shows Pakhi injecting a drug to Agastya without Meera's knowledge. Mohit and his men take Agastya from there. Pakhi shouts that Meera will has to pay off for her sins. Meera leaves. Pakhi apologizes to Dadi in mind for giving her so much pain.
Mohit thanks the men for helping him. He pays them and says to not tell about this to anyone. He tries to wake up Agastya and wonders why he isn't waking up, the medicine's effect should last only for two hours. Pakhi comes to them She says that she has come out through the secret room. She asks Mohit why Agastya is still unconscious. Mohit asks if she didn't give Agastya overdose. Pakhi denies and says that she only gave him the dose Mohit told her. She tries to wake up Agastya.
The latter finally wakes up coughing. Pakhi hugs Agastya and asks if he's fine. Agastya says that he is fine. Agastya further says that their first plan got successful, but the real drama is yet to start. He is going to return Meera what she did to him. He says that he is returning in Meera's life for the next three days as her worst nightmare.
Dadi cry for Agastya. Shanya and Pakhi console Dadi. The latter apologizes to Pakhi for not being able to save Agastya and leaves. Pakhi says to Shanaya that she can't see Dadi in this condition, but she has to hide the truth from her so that her life doesn't get in danger. Naveli comes to them and asks if everything happened accordingly. Yug asks what happened accordingly. Pakhi says that Agastya's last rites. She lashes out at him and asks if they will stop them from thinking of Agastya too.
Yug says that Pakhi should be happy with Agastya death after what he did with her. Pakhi says that Agastya wronged even Yug, but he doesn't seem happy. She asks if it's not because Meera treats him worst than Agastya and he realized that Agastya is better than Meera. Yug says Pakhi to keep her mouth shut and do household work. He leaves. Shanaya asks Pakhi what to do next.
Pakhi comes to Meera's room to sweep when she is in call with Mr Sinha regarding their deal. Meera asks Pakhi what she is doing here. Pakhi says that Dadi isn't well, so she came in her place. Meera says that she won't harm her parents if Pakhi keeps obeying her. Meera phones Ragu and says to inform her when new samples delivery will come. She leaves. Naveli requests Dadi to have food, but she refuses. Meera gets annoyed on seeing this.
Pakhi comes to Dadi. She says that Agastya's soul will be with them. She says that he must be sad on seeing her condition and requests Dadi to have food for Agastya's sake. Meera says that there's no soul that roams around if a person dies, it's all rubbish. She says to Dadi to not cry as she doesn't want it in her house. Pakhi thinks that it's Meera's turn to cry and decides to start the plan's second part.
The episode ends.
Click to read