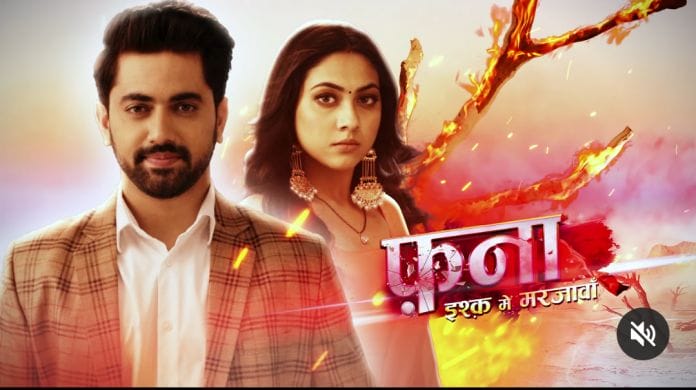 Fanaa Ishq Mein Marjawan 24th August 2022 Written Update on TellyExpress.com
The episode starts with Meera learning that Pakhi and Agastya going to the police station. She calls Pakhi and threatens to harm Tara if they go to the police station. Agastya warns Meera. The latter says that she doesn't give false threats and asks to check the photo she shared. Pakhi panics seeing Tara's unconscious photo. She assures Meera that they won't go to the police station. Pakhi takes Agastya back home. Agastya's lookalike informs Meera the same. Pakhi and Agastya reach home.
Sameer asks Agastya if his plan is working. Agastya nods yes. He says that they had to put up this act to force Meera to call from her phone and trace her location. Naveli says that Meera's location is traced. Pakhi says that they should be more careful as the imposter is keeping an eye on them. She spotted him outside the police station and near their house. Agastya assures Pakhi that they will save Tara. Pakhi says that Meera started this battle, but they will end it. Agastya and Pakhi inform the family that they will go out from the back door. Agastya's lookalike informs Meera that Pakhi and Agastya are inside the house.
Agastya's lookalike sees Mona taking a priest inside the house. He peeks into the house and sees family sitting in the puja. He wonders where Pakhi and Agastya are. Just then Mohit and Naveli sit in the puja dressed up like Agastya and Pakhi. They play the recorded voices of Agastya and Pakhi. A FB shows Agastya and Pakhi explaining this plan to the family. Agastya and Pakhi are dressed up in black and leave the house from the back door. They drop a pot accidentally. Agastya's lookalike comes there hearing the sound. Pakhi and Agastya hide. Agastya's lookalike doesn't find anyone. He leaves.
Meera asks the doctor why the procedure is taking so much time. The doctor says that it is a risky procedure and they can not afford any mistakes. Pakhi and Agastya reach the warehouse. Agastya sends a remote car that contains a camera inside the warehouse. They see in the footage the unconscious Yug. Agastya says that Yug risked his life for them, so they have to save him. Pakhi panics seeing a doctor, medical staff, and Meera in the room and wonders what they're going to do with Tara. She wants to go inside. But Agastya stops her as it is risky.
Pakhi sees a nurse going inside. She catches her and asks what they're going to do with her daughter. She takes that nurse apart. At Raichand's house, Agastya's lookalike gets Meera's call to confirm if Agastya and Pakhi are at home. He assures her that they are at home and it seems that they don't have any plan. Here doctor asks where the nurse who has to bring the important equipment which is needed for the operation. Just then Pakhi enters the warehouse dressed up like a nurse. The doctor takes the bag from her hand. Agastya instructs Pakhi via Bluetooth to throw the smoke bomb when he will complete the countdown of 10.
Meanwhile, Agastya's lookalike sees Naveli when her pallu falls from the head and realizes that Pakhi and Agastya aren't at home. He informs Meera immediately. Meera notices a nurse having Bluetooth in her ear and approaches her. Agastya completes the countdown of 10. Pakhi throws the smoke bomb. Agastya enters covering his face to protect himself from the smoke and beats the ward boy. Pakhi and Meera fight. Pakhi pushes Meera down. Pakhi and Agastya rescue Tara and Yug.
Agastya's lookalike comes and finds Meera unconscious. He wakes her up and asks where Tara is. Meera says that Agastya and Pakhi took her and asks him to find them. Agastya, Pakhi, Yug, and Tara are in the car. Pakhi says that they are not safe until Meera gets arrested. Later doctor check-up Tara and says that she is just unconscious and needs not to worry. He takes leave. Pakhi wonders what Meera was up to with Tara with the medical team and equipment. Tara gains consciousness and says that Sharda is bad. Pakhi says that they know. Tara regrets going with her. Pakhi says that it is not her fault. Agastya cheers up Tara saying that Pakhi hit Meera.
Tug instructs the guards to be alert. Agastya says to Yug to be alert as Meera must be angry with him for helping him. Agastya says to Pakhi to leave for Singapore with Tara till Meera gets arrested so that Meera doesn't harm. Pakhi refuses. Agastya convinces Pakhi. Meera meets the mysterious man and says that requests him to give her a last chance to use her final trick. The man asks whom she is talking about.
The episode ends.
Click to read