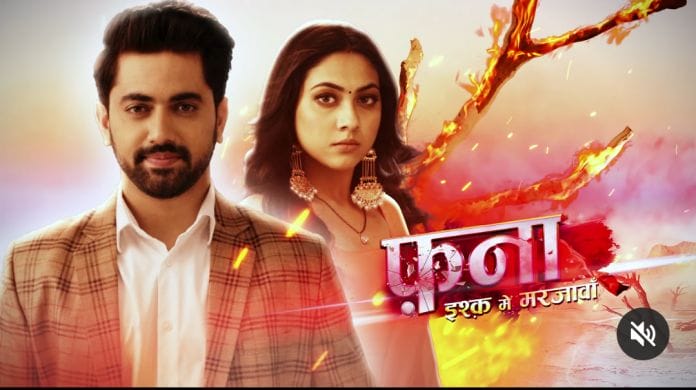 Fanaa Ishq Mein Marjawan 29th August 2022 Written Update on TellyExpress.com
The episode starts with Agastya saying to Pakhi that he won't spare Meera for what she did with Tara. Agastya comforts Pakhi. Meera arrives there and reminds them that it's time to leave. Prema and Sameer talk about Agastya and Pakhi keeps facing obstacles. They decide to pray for them. Yug thinks of doing something to help Pakhi and Agastya. In the hall Meera sprinkles alcohol on Agastya's clothes. She asks Agastya to warns Subut for intervening in his invention and to threaten him. Mona says that Meera will get punished for her sins one day. Meera hits Moja's head to the dinning table. She says that it's just a demo. She asks Naveli to take her inside and make sure she stays quiet.
Tara shows a drawing she made to Agastya. Meera scolds Vicky for not watching closely Tara. Meera drags Tara to Vicky. She tears up Tara's drawing. Meera leaves taking Pakhi and Agastya along with her. Vicks holds a crying Tara.
Meera instructs Agastya to act as he is drunk. She tells Pakhi to convince Subut to talk to Agastya saying that Agastya is furious and he will kill Subut if the latter refuses to talk. She warns them to not act smart as he is watching them through the CCTV camera. Agastya notices that there's a crayon and paper in his pocket and thinks that maybe Tara put it here by mistake. He sees Subut's son Pratap coming. Meera tells Pakhi over Bluetooth to tell Agastya to start the work.
Agastya pretends to be drunk. He starts arguing with Subut and creates a scene. Subut is shocked with Agastya behavior. Agastya pushes Pakhi towards the table on which color powder are kept. Pakhi turns the fan towards the colors which creates a distraction. Pakhi recalls Agastya telling her the plan to alert Subut. Everyone starts coughing and Meera is unable to see what's happening there. Using this opportunity Agastya writes in the paper that Subut's life is in danger and hands it to his son, Pratap. The latter reads it and looks shocked.
Later Pakhi, Agastya and Meera return home Meera is glad that first step of the plan was successful. Agastya hopes that Partap will do act to save Subut. Just then Pratap arrvies there. It's revealed that Pratap is the person with whom Meera is talking over phone. Pratap gives Agastya's letter to Meera and says that their plan will be flopped if his dad would read it. He says that neither his dad will die nor Agastya will go to jail. Agastya and Pakhi are shocked to hear this.
Pratap says that he wants to take over his dad's company and runs it as he wants. He further says that Agastya is his competitor, so he has to kill his dad and goes to jail. He regrets for giving this work to Meera. The latter seeks him to give her a last chance. Pratap says that this is her last chance and if she fails, their deal is cancelled. Pratap leaves. A furious Meera calls her men inside and says that from now their normal life comes to an end. She activates the bomb. Tara comes there and says the lights is blinking again. Meera says that she's unable to deactivate it.
The episode ends.
Click to read