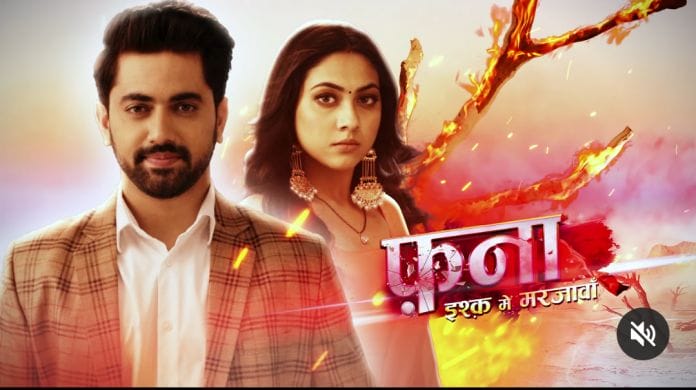 Fanaa Ishq Mein Marjawan 29th June 2022 Written Update on TellyExpress.com
The episode starts with Pakhi asking Mohit to be with Shanaya and going after the goon who attacked Shanaya. Ishan joins Pakhi. Anand catches that goon and drags him to Agastya. He says that he got to know he is in the hospital after tracking his phone, he could harm Shanaya so he informed Agastya and police immediately. Agastya asks the goon to tell who asked him to attack Shanaya.
The goon says that he didn't see him, he only gave instructions through phone calls. He said to blame Agastya if he gets caught. Agastya says Anand to check his goon. He obliges. Ishan and Pakhi are looking for the goon. Ishan says that he must be in the storeroom. Pakhi asks how he is so sure. Ishan says that the only empty place in the hospital so he could have hidden there. The goon begs Agastya and says that he needed money so did this.
Agastya asks him to get up. He gaves him money. Pakhi and Ishan come and see this. Agastya says him to not put the blame of attack on Shanaya on him. Anand says that Pakhi family knows that Agastya saved Shanaya. Anand warns to beat him if he puts the blame on Agastya. He further says that it's good they catched hin else he would have said to all that Agastya attacked Shanaya.
Pakhi is utter shocked on hearing this. She moves forward, but she's unable to speak due to shock. She leaves from there crying. Ishan and Anand exchange a thumbs up. A FB shows Ishan bribing Anand and instructing to make Pakhi believe that Agastya attacked Shanaya. Agastya says to Anand to handle the goon to the police so they can continue the investigation. Anand leaves taking the goon with him.
Pakhi drops the gift bag and cries recalling Agastya asking saying to the goon to not blame him for Shanaya's attack. Ishan comes there and says that Pakhi and Agastya's relationship broke forever. Sameer is asking Mohit where Pakhi is.
Just then Pakhi comes there recalling doctor and Agastya's words. Sameer sees Pakhi and asks if she got that goon. Ishan comes there and wonders why Pakhi isn't saying the truth to Sameer. Pakhi says that she couldn't catch that goon. She asks Sameer to go home taking Shanaya. She will return later as she has to discuss with doctor about Shanaya. Sameer asks Pakhi if she's fine. Pakhi says that she doesn't have any option.
Ishan shouts that why Pakhi didn't tell anything to Sameer. He softens his tone and asks if she's fine. Agastya receives Dadi's call. He says that he couldn't find the culprit, but assures that he will find him soon. Dadi asks if he will tell Pakhi that the goon who attacked Shanaya came to the hospital. Agastya says that he will definitely tell as he doesn't want to repeat his last time mistake. He says that Pakhi will definitely believe him.
Pakhi says to Ishan that she can't tell her family the truth and hurt them again because of Agastya. She regrets getting fooled again. Ishan says that she's not fool, but he made a full proof plan which can be believed by anyone. Ishan says to Pakhi to not blame herself, he understood it earlier that he is going to deceive her again. He asks what she will do now.
Pakhi thinks. There Agastya says to Dadi that he is going Pakhi's home to meet and tell her everything. He also says that Pakhi wanted to meet him to tell a good news. Dadi says to share the good news with her too. He agrees and hangs the call.
Pakhi cries recalling her and Agastya's moments. She says that Agastya deceived her and her love, so she won't forgive him this time. Other side Ishan and Meera are in call and rejoice their victory of separating Pakhi and Agastya. Ishan says to Meera that he will decide what to do with Pakhi ahead. Meera agrees.
Ishan says that he teamed up with Meera only to separate Pakhi and Agastya. He hates Agastya, but not Pakhi. He says that he will get Pakhi not because he loves her, but she chose Agastya over him. He says that this time he has to choose him and he has to win in the battle between him and Agastya.
Agastya comes to see Shanaya. Prema thanks Agastya for saving Shanaya by donating blood too. Agastya asks where Pakhi is. Shanaya says that Pakhi is in the hospital. She says that the goon who attacked came to the hospital and Pakhi went after him to catch him.
Agastya says that he knew this and his private detective catched him and took the police station. They will soon get to know who attacked Shanaya. Pakhi is walking on the road remembering Agastya's words. Pakhi says that gave lot of chances to Agastya, but now she made her decision and she knows what to do now.
The episode ends.
Click to read