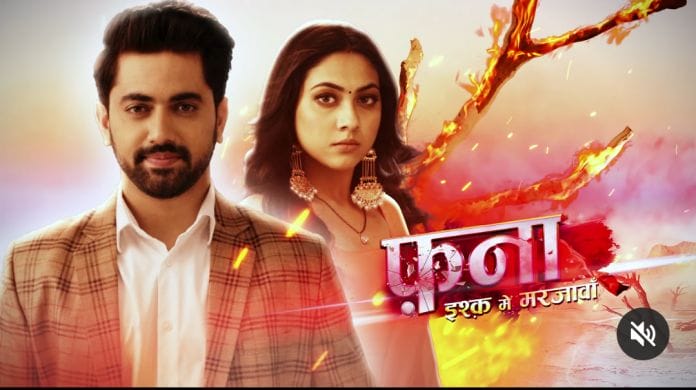 Fanaa Ishq Mein Marjawan 30th August 2022 Written Update on TellyExpress.com
The episode starts with Meera scaring Agastya and Pakhi by lying that she's unable to deactivate the bomb. She reminds them 18 hours left for the bomb blast. She says that till that Tara and his family will be in her custody. She asks them to do her work. Tara is scared and refused to go with Meera. Agastya assures Tara that nothing can happen to her until her parents are with her.
Meera warns Tara to not cry. She hands a quilt to her and asks her to sleep on the floor. Tara obliges. She's crying and shivering. Pakhi sings a lohri from her room as Tara can't sleep without her lohri. Agastya decides to execute Meera's demand to save Tara. He wants to do it alone so that Pakhi can be with Tara. Pakhi refuses. Pakhi says that they shouldn't give up. She says that she can't stay without Agastya and Tara. Agastya asks Pakhi what else they can do. Pakhi says that she doesn't know, but Tara shouldn't grow up without her parents. Agastya hugs Pakhi.
In the morning, Agastya tells Agastya that he should reach the pandal and act as a psycho who only wants revenge. She says that Tara will be with her till Agastya finish the work. She threatens to kill Tara if he fails. Agastya requests Meera to hug Tara before leaving. Meera agrees. Agastya hugs Tara. Pakhi looks on crying. Agastya wishes to talk to his family for a last time. Meera agrees and takes him to the room where his family is there. Agastya wants to talk to them alone.
Meera leaves saying to do it fast. Agastya says to his family that he is going to fulfill Meera last work and they may not see him again. Agastya hugs everyone. Yug says to Agastya that he shouldn't do this, they don't have any guarantee that Meera will keep her words after Agastya do his work. He says they can't trust Meera. Agastya says that he has to do it. Meera comes there to take Agastya from there. Mona warns Meera that goodness will win over evil.
Meera threatens Agastya to kill Tara and his family if he commits any mistake. She hands him the gun. Agastya and Pakhi leave. Vicky asks Meera what she will do with Tara after Agastya will go to jail. Meera says that she explode the bomb after the work is done and Pakhi will be shattered after losing Agastya and Tara. Vicky says that Meera is dangerous that even he's scared.
Yug refuses to sit quietly. He decides to escape from there to help Agastya and Pakhi. He tries to find a way to go out of the room. He finds a window in the top. With Sameer's help he climbs on the wall and breaks the window. He escapes from that window. On the other hand Pakhi and Agastya reach the pandal. Agastya takes out the gun to shoot Takur. A hoody man drags Agastya apart. The hoody man temoves his hoody. Agastya and Pakhi are shocked to see Yug there.
Yug wants to complete Meera's work on Agastya's behalf as he doesn't have anyone in his life whereas Agastya has Tara who needs him. Agastya says that Meera wants him to kill Takhur and go to jail else Tara's life will be in danger. Yug and Agastya fight the gun. The gun falls on the ground and gets lost somewhere in the crowd.
Yug and Agastya are looking for the gun. Meera sees Yug in the CCTV camera. She calls his men and asks to bring Yug, Agastya and Pakhi out of that place. In the pandal someone spots the gun and asks to call the guard. Meera's men tell Agastya, Pakhi and Yug that Meera asked them to return home. Agastya takes the gun and they leave.
Meera slaps Yug. Meera says to Agastya and Pakhi that she will do what they didn't want to happen. Yug says to Meera to not punish them as it was his mistake. Pakhi pleads with to not harm Tara. Meera to give them a last chance. They will do her work by the next day. Meera says that this is their last chance.
The episode ends.
Click to read